Matt Borcas is a Mentor native and lifelong Browns fan who writes about football and other things for ESPN's Grantland. His writing about the NFL has appeared here regularly in the past and here it is again to preview the latest most important draft in Cleveland Browns history.
—————
Ray Farmer, like most NFL execs, is remarkably skilled at saying nothing. Not in the way of the last Cleveland Browns GM, who never actually uttered any words, but in the way of a savvy politician, stringing together hollow and highly qualified statements in a way that makes them sound meaningful. Like this gem from a 2/16 interview with The Notorious MKC:
Q: Will you draft a quarterback?
A: I don't think we have to do anything. The charge is to get it right regardless of which position. [But] there are players in this draft who can help us at that position and dependent upon where they're at and where we're at, if the two can match up, we can be in good shape. I just don't know if we're going to have the opportunity to take those players.
This is all 100% true, of course. The Browns don't have to do anything. And despite reams of evidence to the contrary, one can only assume the charge has been "to get it right" since 1999. The hard part is actually getting it right.
As for whether they will in 2014, there's certainly no telling from Farmer's pre-draft statements on top prospects like Sammy Watkins (a "ginormous[ly]" impactful player), Johnny Manziel ("exciting, electric"), Teddy Bridgewater ("good college football player"), Khalil Mack ("explosive"), Jadeveon Clowney ("difference maker"), Blake Bortles ("complete package"), Mike Evans ("he's got ball skills"), and more.
Which is why we have reporters. Unlike football execs, they're paid to provide the public with useful and reliable information. So it's worth remembering that just four months ago, something approaching a national consensus had emerged linking the Browns to Johnny Manziel. "I hear Cleveland really likes Manziel," wrote SI's Peter King on 12/30. "[T]he Browns are…very high on Manziel," noted CBS's Jason La Canfora on 1/11, who later added that the organization would trade up for the Texas A&M quarterback "if need be." And in a not unprecedented show of conviction, MKC replied "I would have to think so" when asked by Dan Patrick if the Browns were "all-in" on Manziel on 1/22.
Point being, it's safe to conclude that the Browns were smitten with Manziel in January. So why wouldn't that still be the case? While it's easy to point to the February ouster of GM Mike Lombardi, that strikes me as a weak line of reasoning. Sure, maybe Lombardi was the only dude in Berea who coveted Johnny Football, and now that he's gone the Browns definitely won't take him. But since a GM's opinions are largely influenced by those around him, wouldn't it follow that the Browns remain Manziel aficionados, seeing as "those around him" (i.e., Farmer and the scouts) still work for the team? In other words, the fact that Lombardi wanted to draft Manziel in January significantly increases the probability that Farmer, Lombardi's former right-hand man, will draft Manziel tomorrow.
From here we might assume that Farmer went deep into damage control mode upon becoming GM, understanding the obvious benefit of not revealing his draft board to Jason La Canfora. This would explain the dropoff in Manziel rumors that coincided with Farmer's promotion, and also the uptick in reports of the Browns' supposed interest in other quarterbacks, like Bridgewater and Derek Carr.
If you doubt any of this, consider Adam Schefter's report about the Browns coveting Ben Tate in free agency from last September, written in the wake of the Trent Richardson trade, and how it turned out to be completely true despite the front office overhaul that occurred in February. Here we have a case study of Lombardi planning to make a certain decision, getting canned shortly thereafter, and then Farmer, in his elevated role, making that very decision. At this point there's no reason to believe things won't play out similarly with Manziel.
Which is just as well, because Johnny Football would light up FirstEngergy Stadium's publicly-funded scoreboards like Vegas. While Bortles and Bridgewater would also make fine picks, prospects like Manziel only come around so often, and if Farmer passes on him, there's a decent chance he'll be forever remembered as "the guy who passed on Johnny Football." Not the legacy most first-year GMs are aiming for, but right in line with his infamous predecessors.
The relevant numbers here seem to be Manziel's 86.3 QBR and incredible third down efficiency, due in large part to his success as a runner. But when it comes to Johnny Football, numbers are secondary. Plays like these take center stage:
22 minutes. Quadruple the time of an average Derek Carr highlight package, because after watching three or four bubble screens, it's easy enough to get the idea. Throw in a horrendous third-down completion percentage and talk of a "rifle arm," and one begins to get the sense that Carr's Weeden potential is off the charts.
Which reminds me that Mike Holmgren recently issued a firm denunciation of all things Johnny Football. If ever there was a reason to take Manziel, this is surely it.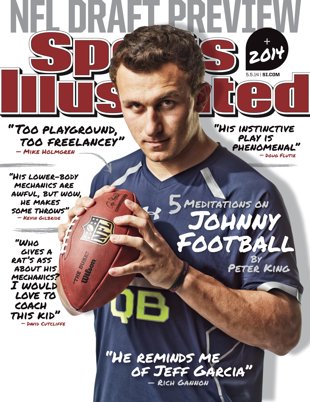 "Too freelancey," says Holmgren, who has a Super Bowl ring thanks to one of the most freelancey quarterbacks of all time in Brett Favre.
And if ever there was a town in need of a quarterback whose attitude screamed IDGAF, it's surely Cleveland.
With any other franchise, the importance of filling such a critical long-term need would be obvious. In Cleveland, though, a not-insignificant number of folks are content to anoint Brian Hoyer the quarterback of the future and maybe take an A.J. McCarron (shudder) or Aaron Murray later on. This mindset is both completely understandable and certifiably insane. You can't put a Band-Aid on cancer, and you can't expect to fill a critical long-term need at quarterback with so-called lottery tickets year after year after year.
However, in the event that Farmer refuses to address the Browns' most glaring need at no. 4, there are better ways to go about it than others. The best way would be to grab Manziel's partner in crime, wide receiver Mike Evans, who was engineered in a lab to stunt on defensive backs. He spent the past two seasons dominating the best corners the SEC had to offer and would be virtually impossible to double-team opposite Josh Gordon. (Yes, I'd take him over Watkins, ginormousness be damned.)
In keeping with the A&M theme, Jake Matthews's versatility (he played right and left tackle in college) and bloodlines are hard to ignore. Full disclosure: I was named after Jake's uncle Clay, so this is in no way an objective opinion. Trading down is an attractive option, too, and also an increasingly realistic one. In fact, Peter King's mock draft has the Browns acquiring Atlanta's third-rounder to move down to no. 6, where they'd still be able to get Manziel or Evans. Unfortunately, this scenario is contingent on Clowney falling to no. 4, which almost definitely won't happen.
At no. 26, the Browns would be wise to select the fast-rising Kyle Fuller or Ohio State's very own Ryan Shazier, both of whom would fill holes on defense. Of course, this all depends on what Farmer does at no. 4, but odds are he's going offense first. Meanwhile, if Fuller's off the board by then, hulking corners Pierre Desir and Stanley Jean-Baptiste are likely targets at no. 35. Vanderbilt wideout Jordan Matthews would make sense there as well, provided the Browns don't go receiver in the first round. After that, you can probably expect a running back (preferably Bishop Sankey) and safety (preferably Deone Bucannon) to be picked next.
Aside from not drafting Tom Savage, my only day three request is for Farmer to take a sixth-round flier on former Oregon tight end Colt Lyerla. "Former" being the operative word here, because Lyerla left the Ducks in early October after a string of rules violations. He then proceeded to get arrested for cocaine possession, torpedoing his draft stock despite the tremendous physical tools seen below.
Even if there's a 75 percent chance he busts, that's not out of line with the success rate of most sixth-rounders. The upside, of course, is something along the lines of a Vontaze Burfict situation, where Lyerla matures and blossoms into the All-Pro talent that everyone thought he would be before the off-field issues emerged.
The rest we can discuss at Map Room. The most important draft in Cleveland Browns history is tomorrow night, and I for one couldn't be more terrified.
————-
UPDATE:
Browns won't be drafting Manziel at #4. I know it's been out there a ton that they will but no that's not how they have it

— Jay Glazer (@JayGlazer) May 6, 2014
Ugh, Glazer's never wrong. Whatever. Maybe this means they use no. 26 to trade up for Manziel somewhere in the first round? We'll see GLUG, GLUG, GLUG, GLUG, GLUG.