At some level it's of course good news that a government office with jurisdiction over the issue took an official step in recognition of the Washington Redskins name for what it is: A racist slur adopted by a racist in celebration and furtherance of white supremacy. Yet despite all the excitement about bootleg Redskins merchandise and $9 billion dollar lawsuits, the US Patent and Trademark Office's decision to cancel the registration of six Redskins marks represents a small measure, probably unconstitutional, that even if upheld on appeal would hardly cause the NFL franchise to lose any trademark protection at all. In the end, it's little more than a reminder that we live in a world where it has to be so hard to take such a small and obvious step in the first place.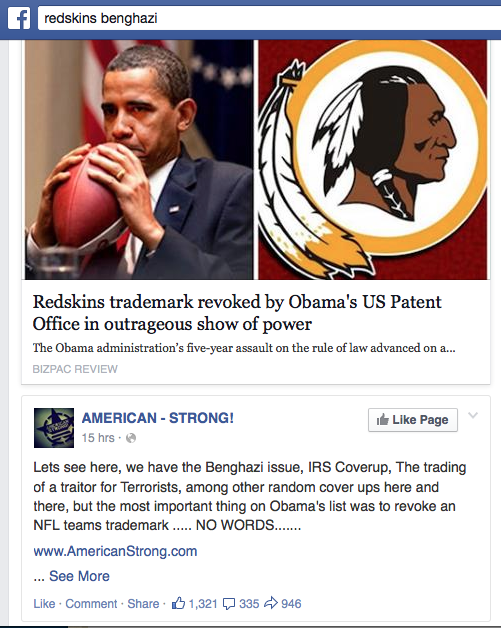 Which isn't to say that the reminder is unhelpful.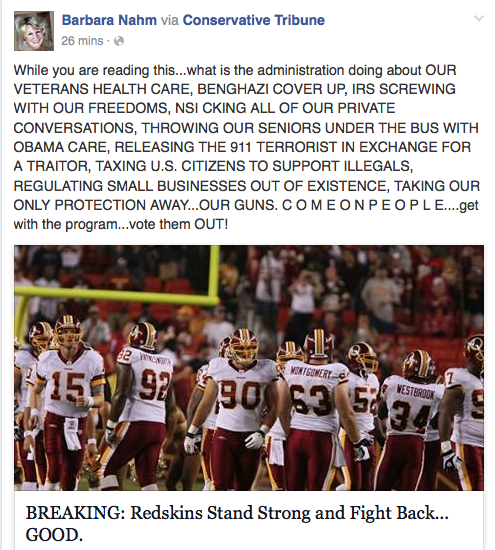 First, regarding the legal insignificance of the USPTO's decision, Attorney Christopher Beall, an expert in trademark law who teaches at the University of Denver's law school and practices at one of the nation's leading First Amendment firms, has concisely and cogently explained its "limited nature." Specifically, the decision merely invalidates "the 'registration' of the team's trademark, not the team's 'use' of the mark."
"Because [the] decision does not bar the team from using the mark, the trademark itself will continue to exist and be enforceable," says Beall, who goes on to explain that Federal Law (The Lanham Act) "explicitly provides a vehicle for bringing infringement suits based on unregistered trademarks, including here a disparaging one." Therefore, "the lack of a registration will [only] mean that the team must first prove that its trademark is valid," which will be no problem for the Redskins given that their mark has been in use for 60 years.
It took an eight-year legal battle to accomplish even this modest step, with the appeals process expected to take at another few years before the decision is final. Dan Snyder, the billionaire owner of the NFL franchise, has vehemently stated that he will "NEVER" change the Redskins name, and will surely spend whatever it takes in an effort to reverse the USPTO ruling, as legally toothless as it is. Snyder maintains his vigorous defense of the slur despite widespread opposition, including from the White House, the Senate, a growing number of mainstream news publications, and not least, a countless number of indigenous groups, including the National Congress of American Indians Congress, the oldest, largest, and most representative body of Native Americans on earth.
Thus, at least if not at most, the continued survival of the Washington "Redskins," as well as Chief Wahoo and the "Indians" in Cleveland, takes on increasingly surreal and, in the literal sense, spectacular proportions.
Here's one of those times when the phrase "Only in Cleveland" is actually an understatement. #Cleveland #Indians pic.twitter.com/rFlzrqNz4q

— Cleveland Frowns (@ClevelandFrowns) April 4, 2014
The more that Snyder and the Dolan family, owners of the Major League Baseball club in Cleveland, continue to countenance and inflame this spectacle, the more one wonders if we shouldn't be thankful for it; Especially to the extent that these appropriations of Native American culture are as unsustainable as the status quo that they represent.
Which is to say that we might at least appreciate that Snyder and the Dolans are so open in their comfort with the notion, represented by their "Redskins" and "Indians," that certain humans and certain ways of living are appropriable and disposable. Of course, such notions are nothing new or unique, and persist in the form of historic levels of inequality, social decay, and runaway environmental degradation. If the richest country in the world is going to convince itself that it can't do any better than a quarter of its children living in poverty, or confining millions of its people into increasingly isolated and crowded ghettos, for example, it can only help if folks are comfortable with turning genocide victims into sports mascots. If you're trying to perpetuate carbon-based capitalism, too, all the better if those genocide victims happen to be ones who managed to thrive peacefully without endlessly blasting greenhouse gas into the atmosphere, or even privatizing property at all.
It's no surprise that folks with both the wealth and inclination to own an NFL or MLB franchise would perceive an interest in maintaining the status quo, disposable humanity and all, however damaging and unsustainable it might be. Yet as successful as plutocrats have historically been in convincing the middle class that doing whatever to the poor and/or minority races is okay, it's interesting that Snyder and the Dolans would be so obvious about it by continuing to cling to these mascots against such established cultural norms against open racism. Of course the Redskins and Indians could change their names tomorrow and it would hardly register a vibration on the scales of justice. The absence of racist imagery in popular culture, while necessary to a just civilization, is certainly no more a guarantee of as much than a black President is.
So if a growing majority of humanity is to continue to be subject to needless suffering on a needlessly rotting planet in service of a handful of gilded slumlords, it might be just as well that our sports uniforms remind us of as much. This is who's in charge and this is what they think of people from whom they've stolen. They'd make a mascot out of you too if they thought they could get away with it.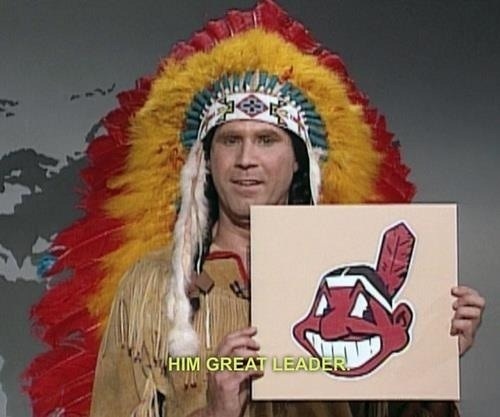 If Chief Wahoo is as popular on Native reservations as certain sports talk radio hosts would like us to believe, it should be easy enough to understand why. We might as well "Keep the Chief" if we're going to keep the conditions that allow people to be turned into mascots and worse in the first place.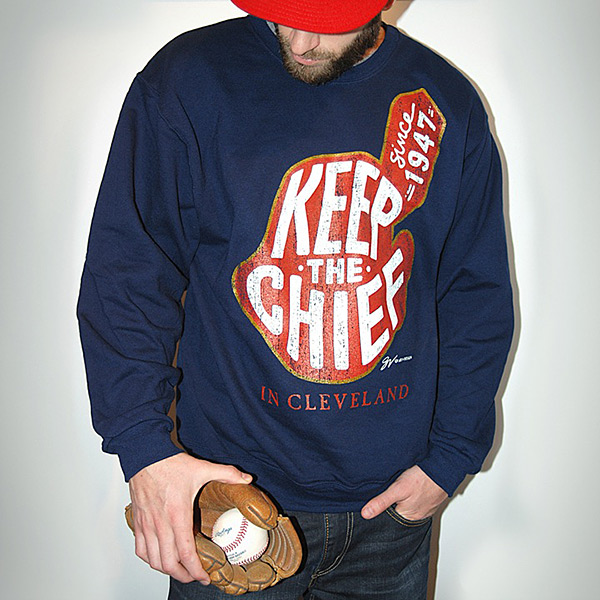 In any event, it's as clear as ever that the abolition of the "Redskins" and "Indians" is much less important than the recognition of what they represent. The USPTO's definition of "Redskins" as a racist slur only helps here, as hard as it might be to think it helps a whole lot.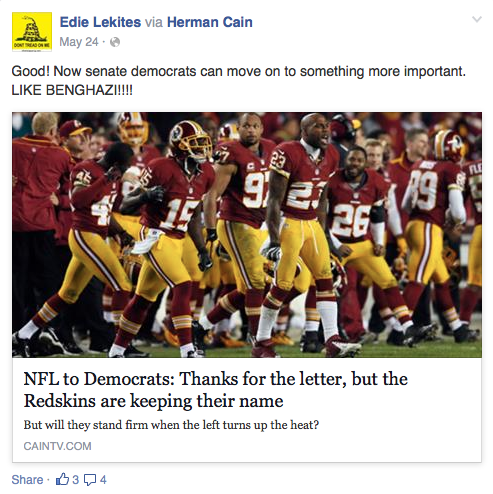 —————
In other news, LeBron is coming back to the Cavs. Hang on to your pants.