After yesterday's 20-10 loss to the Ravens in which the Browns ensured their seventh consecutive losing season, owner Jimmy Haslam made a rare appearance in front of the TV cameras to send a message to certain of the team's young players.
"I think a player who can't show up for meetings, can't make practice, can't make weight-lifting, disrespects himself," Haslam said. "But I think more importantly, and I think this is what these young guys miss, they disrespect the team, the coaches, the staff, the fans. There's a lot of people in our organization whose livelihood depends on how well we do. We're not gonna tolerate people who are irresponsible, no matter what round they're drafted in."
Haslam was referring to 2014 first-round draft picks Johnny Manziel and Justin Gilbert, as well as third-year receiver and 2013 All Pro Josh Gordon, all of whom were subject to discipline by the team over the weekend thanks to a series of developments that would seem absurd in any other NFL city.
Here, though, it's just December in Berea and Johnny Football – who in 2014 generated as many negative headlines for off-field incidents as any American athlete in recent memory, performed as poorly as a quarterback possibly could in his 6 quarters of play as a regular season starter, and just last week repeated a vow to take his football career more seriously – had a "big" party on Friday night attended by a number of his teammates. The party was so much fun that Johnny and Gordon failed to show up for the team walk-through and a scheduled rehab appointment on Saturday morning, and the Browns had to send team security to Johnny's home in an attempt to locate him.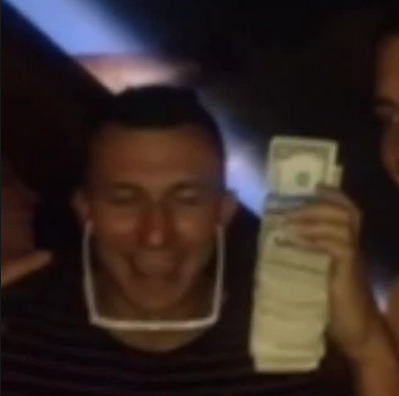 For his part, Gilbert – whose attendance at Johnny's party has neither been confirmed nor denied – failed to show at a team meeting on Saturday night after the team had traveled to Baltimore. Strangely enough, Gilbert last week became the second Browns 2015 first-round pick to promise to rededicate himself to his NFL career. This, after having come under fire for horrendous play and "one of the worst attitudes some in the organization have ever seen."
All three players were banned from the Browns sideline on Saturday, with Gordon having been suspended and kept home from Baltimore altogether.
Of course, the offenses of these three young Browns might seem like small potatoes in comparison to Haslam's, which include a multimillion dollar fraud scheme against the most vulnerable customers of one of America's largest privately held corporations, as well as the relentless plundering of a dying planet's critically fragile ecosystem. But that's hardly the only reason that the Browns owner's moralizing comes off as so empty here. Especially when one considers that the decision to draft Manziel was almost certainly Haslam's own, and then considers what the Browns season might have looked like had they not spent a first round pick on the most polarizing figure to enter the NFL since Tim Tebow.
Of course, it's easy enough to imagine that the pick spent on Manziel could have been used on any of a number of players who would have actually helped the team on the field this season. One might just as easily wonder whether the Browns could have won one or both of the games that Manziel started this season had any other quarterback played in his place, especially after having seen undrafted rookie Connor Shaw's performance yesterday that earned praise from both the Browns and Ravens locker rooms. Whomever that quarterback might have been, we can at least be sure that the Bengals would have been less motivated to murder him in Week 15.
As for the games in which Manziel didn't play, one has to assume that having him around didn't help Brian Hoyer any. It's hard to argue with Bud Shaw for having written in the Plain Dealer yesterday that, "Hoyer couldn't possibly have felt he had the support of the organization," and deserved credit for holding the Browns quarterback job "as long as he did with the muffled inter-organizational drum beat for Manziel."
"You can't have a quarterback coach talking about a No. 1 pick like he's one of the Beatles," Shaw added, referring to Dowell Loggains, who said in May, "I think we can throw [Manziel] out there right now and I think he's going to be one of the most exciting players in the NFL."
One must also wonder how much easier Mike Pettine's job would have been this season if not for all the noise created by Manziel; not just what might have been accomplished with more peace and quiet in general, but also specifically without the influence of Manziel on his teammates, the more impressionable of whom would naturally tend to follow the lead of their rich and most famous cohort. Might Gilbert have avoided a wasted season? How much more productive would rookie running back Terrance West have been had he not been repeatedly benched for disciplinary issues? What if Gordon had returned in All Pro form for the season's last six games? How many more Browns would have been "on the bus" instead of needing to be kicked off of it, as veteran safety Donte Whitner put it after yesterday's game?
"I can't hear you, there's too much money in my f*cking hand," Manziel said in a drunken haze last June, foreshadowing all manner of angst and speculation about hearing problems and the Browns. The most interesting thing, though, about this statement from Johnny is how much it sounds like something a "businessman" would say who'd undertake a multimillion dollar fraud scheme against his most vulnerable customers, or engage in the relentless plundering of a dying planet's critically fragile ecosystem, or draft an NFL quarterback based on that quarterback's short-term ability to sell jerseys and tickets.
As easy as it is to imagine the 2014 Browns as a playoff team had they only passed on Manziel in May, it's even harder to imagine an owner and QB who deserve each other as much as Jimmy and Johnny do. If a planetary ecosystem was going to converge on its last hope in the spectacular failure of a city's sports teams for 50 years and counting, this is one way it could happen.
Which is also to say that the Browns closed out the season with a hell of an effort yesterday given the constraints. Congratulations to Pettine and Ray Farmer for hanging on for another year. The 2015 draft is in 122 days. We have the 12th and 19th picks (!!!). Mark your calendars for Thursday April 30 and we'll see you at Map Room.
—————
UPDATE, January 8, 2015: Mike Shanahan negotiates his exit from Cleveland after just one season as Browns offensive coordinator. Per ESPN's Pat McManamon:
"Shanahan felt the decision to start Manziel was forced on the coaching staff, and that the yearlong insistence to play him when he wasn't ready wore on Shanahan …

"A source said the decision to play Manziel in the 14th game against Cincinnati was not viewed fondly by the coaches, who felt there was pressure all season from the front office to get Manziel on the field.

"Cleveland.com reported this week that the coaching staff believed some in the front office were sending texts during games to the sideline about personnel and plays."