Last week the Browns made national headlines and put the local news cycle on freeze with a heavily promoted "rebranding" that turned out not to be a rebranding at all. For all the many ways this offseason has somehow again plunged the franchise to new depths of league-laughingstock status, the "rebranding" episode was actually glorious, and a much-needed reminder of how great it can be to be a Browns fan.
To review, the organization undertook what it announced as a two-year design process that resulted mainly in turning its primary logo from an orange football helmet to a slightly redder-orange football helmet.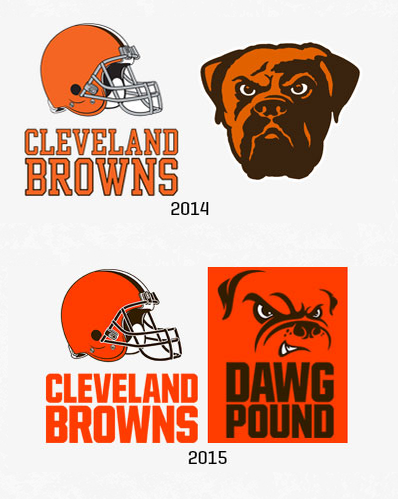 While national responses to the redesign ranged mostly from disappointment ("Completely underwhelming," said the Washington Post's Matt Bonesteel) to mockery, ("50 shades of orange!," said pretty much everyone else) many locals were properly relieved.
Given owner Jimmy Haslam's well-documented drive to squeeze every last penny out of his business ventures, humanity be damned, it was little surprise that he wanted to print up some newly branded merchandise to sell shortly upon taking control of the Browns in 2012. Yet, that anyone still identifies as a Browns fan at all after Art Modell's theft of the franchise to Baltimore and the ensuing decade and a half of impossible failure on the field is proof enough that the Browns already had the strongest brand in the history of commerce.
That the logo would remain so much in tact after this clash of unstoppable force with immovable object is a testament to how great it can be when something original is allowed to stay that way.
The Browns are the only team in the NFL that doesn't wear a symbol on its helmet, and the only one named after a person, the legendary coach Paul Brown — founding father of American football who won seven league championships in Cleveland before being fired by (of course) Art Modell. Yet Brown was uncomfortable with his status as the franchise's namesake, so for a long time the Browns intentionally obscured the origin of the name, at one point pushing the story that it was inspired by world famous boxing champ Joe Louis, "the Brown Bomber." Paul Brown's image has never been used as a logo or a mascot for the franchise, which, in the 1940s adopted "Brownie the Elf" as an official symbol, representative of the mythical "Brownie" creatures of Scottish and English folklore "who helped out with household chores as long as you left them little goodies to eat." The Browns name also evokes legendary running back Jim, as well as the earthiest of colors, brown, prominently featured on the team's uniforms.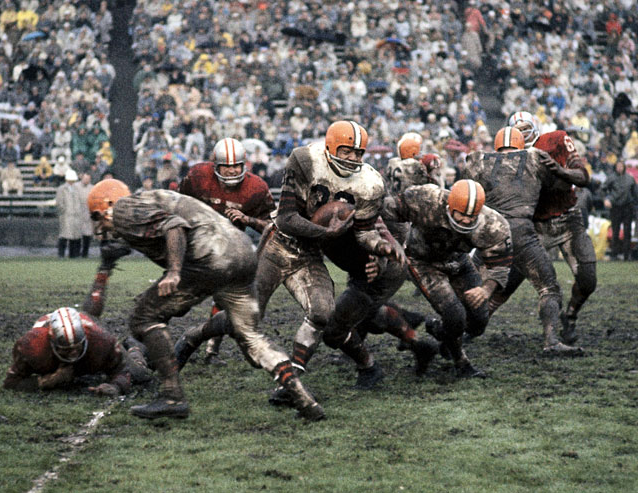 Because the Browns name never came to be singularly connected to any of these concepts, it came to mean more than anything, just, "Cleveland football." The plain orange helmets came to mean the same thing. And for generations of fans who've grown up never really knowing what a "Brown" is, "Cleveland football" and the plain orange helmets have always been plenty. For many of us, it's unthinkable that "Cleveland football" could ever be anything else.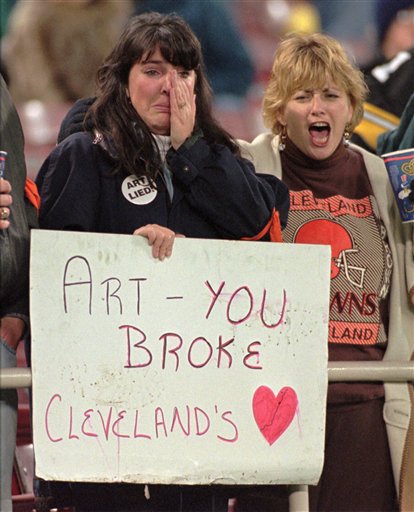 As for why this is so, inertia is surely part of the answer, as is Northeast Ohio's status as the birthplace of professional football. But it's also worth considering that the some of the world's most successful religions teach the cultivation of a wordless state of mind as a necessary step to enlightenment or salvation. Of course, to really know anything is to know it in a way that can't be fully described with words. And at some point words, and the labels we make with them, only get in the way. Have you ever met a stranger at a party or on a bus or airplane, and noticed that your interaction was more meaningful because for whatever reason questions like, "where are you from?" or "what do you do for a living?" never came up?
Which is to say that in the absence of a label or concept to interfere, like, say, a jungle cat that has nothing really to do with a place like Cincinnati or Detroit, "Cleveland football" has been allowed to define itself more purely as exactly what it is, whatever it is. Here we can be sure that a critical mass of Browns fans still knows Cleveland football as a lot more than just the last two decades of failure and heartbreak. Also more than the ancient championship run and the rest of the historical on-field results, more than all the people who are responsible for those results, and more than the sum of the rest of Browns fans' memories of certain Sundays and the odd Saturday, Monday or Thursday in Northeast Ohio and wherever else. At some point, authentic self-definition becomes meaningful enough, and purely so, that there becomes no other way to describe something.
Of course, to some degree this is all true of any beloved sports franchise, especially one with a history as long as the Browns.' But in Cleveland it's more so because of the organic simplicity and obscurity of the Browns "branding," defined over seven decades and counting.
What is a Brown? It's Cleveland football. What's Cleveland football? If you can't tell by looking at the orange helmets, you're just going to have to figure it out for yourself. Just know that whatever it is, one of the most money-grubbingest billionaires on the planet charged some of his most money-makingest henchmen to undertake a two-year project to "rebrand" it, and the only thing they could really do was turn the orange helmets into slightly redder orange helmets.
Go Browns and go orange helmets forever. The draft is only 56 days away.