Let's forget for a moment that the NFL is basically a five-month-long commercial for beer, pick-up trucks and the military-industrial complex, subsidized by taxpayers on the worst possible terms and powered by men willing to turn their brains into porridge on non-guaranteed contracts for the off-chance at dying with some money in the bank. Let's also forget that hardly any of the people who manage the Cleveland Browns, play for the Cleveland Browns, or misappropriate an annual 8-plus-figure annuity from the Cleveland Browns would have a decent thing to do with Cleveland, Ohio if the NFL franchise didn't happen to be based here. Let's even forget that there probably won't even be a Cleveland, Ohio, or any place else for too much longer. Football season is here so it's time to talk about how it's going to go.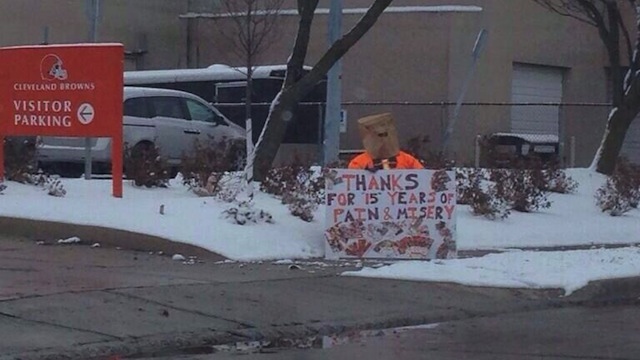 The prediction here is that it won't go so badly, at least not as far as Browns seasons go. At certain points in the NFL's life cycle, consecutive seasons of high drafting by the weaker teams and the depreciation and increasing expense of the rosters of the stronger teams tend to result in a shift in the league's balance of power. As impressively as the Browns have bucked this trend over the past 15 years, and as much as they've flushed at least 5 of their last 8 first-round picks down the sewer, they've still managed to collect some decent players over the last few years, and the roster is probably underrated heading into the new season.
It starts, of course, with an offensive line anchored by a Hall of Famer (Joe Thomas), two more Pro-Bowlers (Alex Mack and Joel Bitonio), a veteran whom Pro Football Focus graded as "excellent" last season (John Greco), and a high second-round pick from 2012 (Mitchell Schwartz) who was good enough to make PFF's "all third year team" in 2014. This is one of those times when having a first-round pick (Cam Erving) who can't crack the starting lineup is a good thing! The Browns offense started as one of the league's best before Mack was lost to injury last season which should have been no surprise because teams with at least 3 Pro Bowl offensive linemen are never ever bad.
Apart from this guarantee of success, there are still other reasons for optimism. A secondary that was one of the best in the league last season should be improved with the addition of Tramon Williams and with Tashaun Gipson and K'Waun Williams returning to health. The defensive line should be better, too, with highly promising first-rounder Danny Shelton and free agent Randy Starks joining Desmond Bryant and a deep group of young backups. All of which should only help a linebacking corps led by Karlos Dansby, who was playing as well as any middle backer in the league before going down with a knee injury in week 11 in Houston. Notably, Dansby's absence from the lineup corresponded with the team's worst five game stretch of the season (1-4 from Nov. 16 to Dec. 14, with the 4 losses coming by a combined 63 points).
Yet all anyone wants to talk about is how the Browns don't have a quarterback or wide receiver because fantasy football is making people stupid at an increasingly alarming rate. But if Josh McCown has proven anything in his 12 years in the league, it's that he's no McCoy/Weeden/Manziel-type dumpster conflagration. On a team like this, that should matter a lot. For example, 2015 McCown has to be at least as good as a rookie and second-year Mark Sanchez was when Sanchez went to two consecutive conference championship games with a Jets team constructed a lot like these Browns are. Looking back at McCown's career, it's easy enough to say that he's never been put in as good a position to succeed as he'll be in Cleveland this year.
It would of course be nice if there were a prototypical "number one" receiver for him to throw to, but Brian Hartline, Andrew Hawkins and Travis Benjamin are all proven to have the ability and inclination to perform the essential functions of the position, and Taylor Gabriel has shown promise. The offensive line should give these guys enough time to get open, and McCown enough time to find them. And the running game should open things up as well, whoever gets the carries (Note: Third-round pick Duke Johnson is the all-time leading rusher of a University of Miami program that's turned out Edgerrin James, Clinton Portis, Willis McGahee and Frank Gore, to name a few). If the offensive line stays healthy enough (hooray again for having Erving as a backup here), the Browns should be able to keep a top-third defense off the field long enough to make for a surprise playoff contender.
This preview is, of course, subject to the assumption that the front office learned anything at all from last season and will thus keep from texting plays to the sideline, forcing the coaching staff to pretend that Johnny Manziel has any business as a starting NFL quarterback, or otherwise interfering with the coaches' jobs. It also contains no representations about what will happen next year once Haslam and his goons inevitably become intoxicated by this season's success. We're talking about 2015 here. The Redskins are running away with the mantle of league's worst embarrassment. Plus, Cleveland Frowns season previews are never wrong. The orange helmets are back and this is our year.
—————
Related: Our friend at 603Brown has come up with an inspired and inspiring comparison to the 1974 Cardinals.