Γρηγόρης Παναγιώτης Παττακός (Grigoris Panayiotis ("Greg") Pattakos) passed away late on Saturday evening, August 13, due to complications caused by cancer.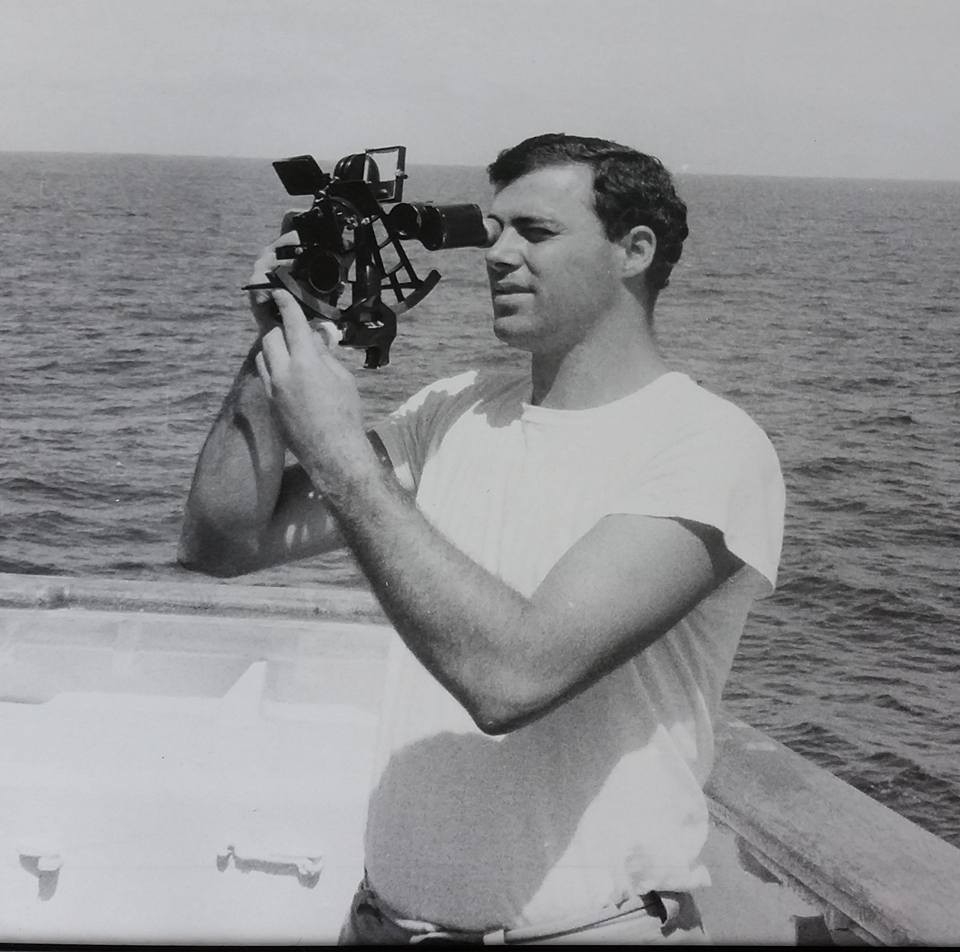 He was born on November 9, 1944 in the city of Chania on the island of Crete, Greece, the seventh child and third son of Maria (Markakis) Pattakos (of the village of Pervolia in Chania) and Panayiotis Pattakos (of the village of Ano Meros in Rethymnon, Crete). The Pattakos clan descends from the legacy of "the seven brothers," who, after the fall of the Byzantine Empire to the Ottoman Turks in 1453, were exiled by the sultan from their home on the island of Imbros in the northeast corner of the Aegean Sea to the remote mountainous region of Sfakia, on Crete's southeastern coast. Here, according to historian Adonis Plymakis in his book, "Sfakia: Imbros' Gorge,"
"[The seven brothers] built a village and named it Imbros to commemorate their island. In the beginning the locals called them 'Tsounides' which means 'strangers' but because they were so brave managing many times to save the area from enemies their name was changed to Pattakos." [From the Greek words 'πατασσω' (patasso — to clamp down, or suppress), and 'κακός' (kakos — bad, or evil)].
About 500 years after the seven brothers were exiled to Crete, Panayiotis Pattakos (Greg's father) found himself in Chania, in line to be executed by Nazi officers after the Battle of Crete in 1941. But Panayiotis' life was spared because he and his wife (Greg's mother) ran the bakery on the port in Chania and were good at their job. Greg (then, "Grigoris") was born three years later, and the Nazis continued to occupy Crete for another six months, until World War 2 ended.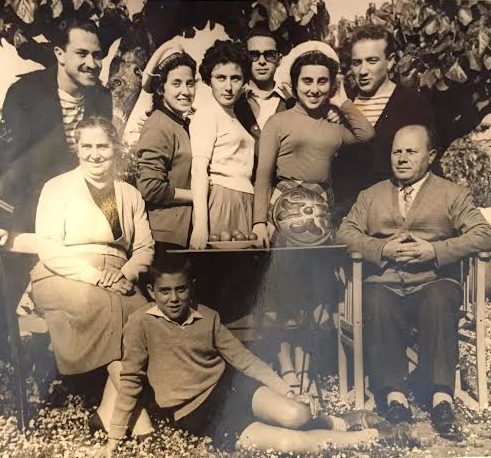 With the Nazis freshly evacuated from Crete, Young Grigoris enjoyed a peaceful childhood working with his brothers and sisters in his parents' bakery.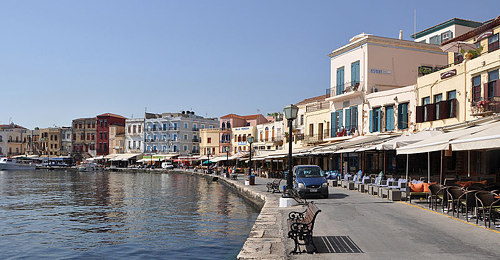 As a teenager, he enrolled in the Nautical Lyceum on the island of Oinousses. After graduating from the Lyceum in 1965, Grigoris entered the Greek Merchant Marines and navigated ships across the globe from Greece to Asia and the Americas until 1967, when the Greek government was overthrown by a military junta led by three military officers, one of whom was Grigoris' father's first cousin, Brigadier General Stylianos Pattakos.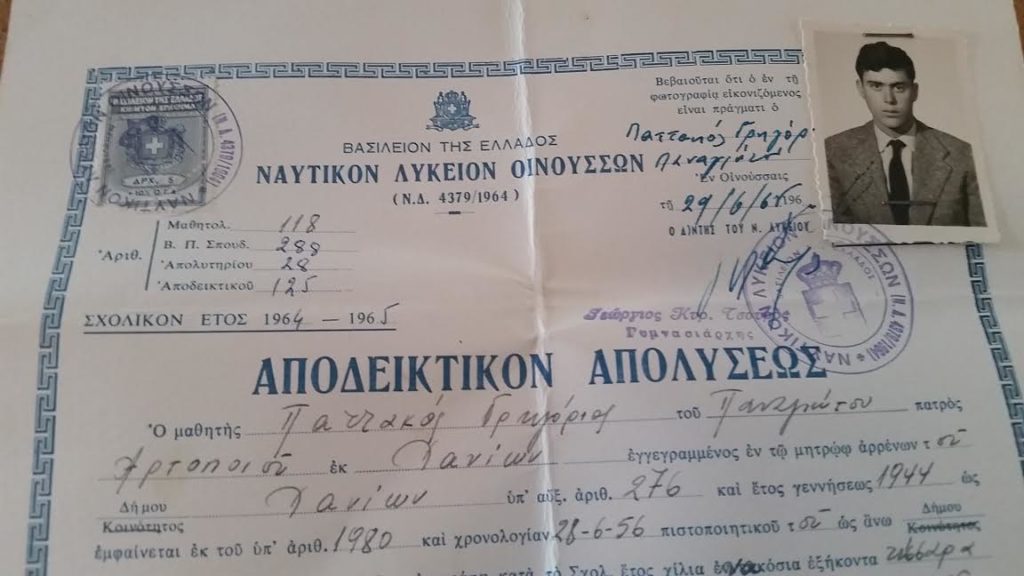 On the date of the coup, April 21, 1967, Grigoris (then 22 years-old) was commissioned on a ship that was ported in Rio de Janeiro, Brazil. The ship's owner decided to keep the ship in Rio for months due to the economic uncertainties caused by the junta, offering Grigoris a unique opportunity to explore Brazil and ponder his future. During this time, Grigoris had many conversations with his sisters, Evangelia, Eleftheria, and Anna, all of whom had recently moved to Akron, Ohio with their husbands due to opportunities created by Akron's then-booming rubber industry (such opportunities having been made accessible to Cretans mainly by the efforts of Chania-native Giorgos ("George") Poleondakis). After these conversations, Grigoris decided that joining his sisters in the U.S. made more sense than returning to his junta-dominated homeland, even though one of the junta's leaders was his beloved Uncle Stylianos. So he found a good lawyer in New York City who helped him get from Brazil to the U.S., where he would be called "Greg" and become a U.S. citizen.
By the time Greg arrived safely in the U.S. in the late 1960s, he'd saved enough money to buy a car (a red Volkswagen beetle) and survive on his own for a few months. After a brief stint in San Antonio, Texas, where he attended classes at a community college to brush up on his English, Greg came to Akron, where he started working for Girves' Brown Derby, a chain of steakhouse/night-clubs that were owned by Gus Girves and his wife, Lela Girves, also members of Akron's Greek community. Greg started at the Brown Derby by unloading trucks. Soon after, Greg became a bartender at the Brown Derby's Hudson location, which, he was fond of saying, cemented his fluency in the English language. After a short time working as a bartender, Greg was promoted to manager, a position in which he worked at various Brown Derby locations until landing at the Waterloo Road Brown Derby by 1974, his seventh year as a U.S. resident.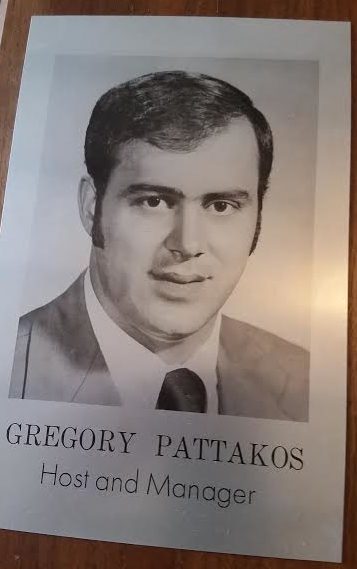 It was at the Waterloo Road Brown Derby in 1974 that Greg's life took its best turn. That's because a young lady named Mary Ellen Huryn decided to apply for a job as the Waterloo Road Brown Derby's hat-check girl. Legend has it that no one had ever said no to Mary Ellen in her life until the winter of 1974, when her father (and Greg's eventual beloved-father-in-law) John Huryn said, no, he would not buy Mary Ellen a car, but if she wanted one she should get a job and earn enough to buy it for herself. So Mary Ellen—then a freshman at the University of Akron—called the Waterloo Road Brown Derby and convinced the cashier (named Alva, Mary Ellen remembers) to put "the manager" on the phone. Greg was the manager, so Greg picked up the phone to talk to Mary Ellen.
Mary Ellen got the job as hat-check girl and three and a half years later, on July 16, 1977, she and Greg were married in the Greek Orthodox Church of the Annunciation, in Akron, with the reception at the Fairlawn Hilton across from Summit Mall.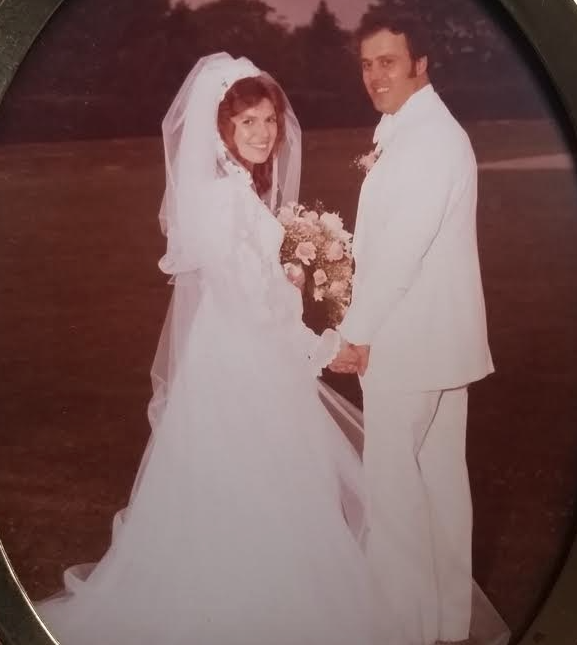 Their son Peter was born about a year later, on August 2, 1978, and their daughter Christina was born about a year after that, on October 23, 1979. In the interim, Greg delighted in spending time with his sisters' children in Akron, Emmanuel and Mary Anne Zanoudakis (now Mary Anne Wolf), Maria, Paul and Eleftheria Lampathakis (now Maria McNamara, Paul Pattak, and Eleftheria Easley), and Peter and Harry Markos. Greg and Mary Ellen also enjoyed trips to Cleveland Municipal Stadium and the Richfield Coliseum to watch the Browns, Indians, and Cavs, including having witnessed The Miracle of Richfield in person.
In the years following their marriage, Greg and Mary Ellen began to learn the auto-glass business from their brother-in-law, Leo Markos (Anna Pattakos' husband), and in 1983 used their savings to found Advanced Auto Glass, Inc. on Union Street in Akron, which provides windshield and car-window repair, and commercial and residential glazing services. Inspired by the love of (and need to feed) their new family, Greg and Mary Ellen worked to become auto-glass-industry leaders by helping pioneer the mobile-service era. Before Advanced Auto Glass came along, folks used to have to drop their cars off for a whole day to have a simple windshield or car-window repaired. Greg was one of the first in America to recognize and serve the demand for mobile auto-glass-repair services—the kind that will meet you at your workplace and fix your windshield in about an hour while you're working.
So within about ten years (with the help of numerous friends and colleagues, including David Wamsley, Bill Koskovics, Nancy Flossie, Lori and Dale Yoho, Nancy Sponseller, Gaylord Mlsna, Louanne Renko, Clark Couling, Chris and Gary Horack, Wayne and Dave Smith, John Painter and Jeff McCaw among others), Advanced Auto Glass grew to 13 locations, first in Cleveland and Youngstown, then Steubenville, New Philadelphia, Canton, Warren, and Fairlawn in Ohio, Bridgeville and Monroeville in Pennsylvania, and Wheeling, West Virginia.
During these years, Greg and Mary Ellen provided a love-filled childhood to Peter and Christina on the corner of Medina Line and Ridgewood Roads, about a mile southwest of Montrose, Ohio, back when Montrose was  the Acme Click grocery, an ice-cream shop called "The Freeze," the Montrose swim club, a drive-in movie theater, a McDonald's, and hardly anything else. As busy as Greg and Mary Ellen were with Advanced Auto Glass, the support of family and friends in Akron (especially Mary Ellen's parents Christine and John Huryn, Greg's sister and brother-in-law Evangelia and Kostas Zanoudakis, Mary Ellen's sister and brother-in-law Valerie and David Morris, Mary Ellen's brother Ted Huryn, and Mary Ellen's brother and sister-in-law John and Jeannie Huryn) made it possible to provide their children a balanced life, even when Greg and Mary Ellen had to sacrifice such balance for themselves.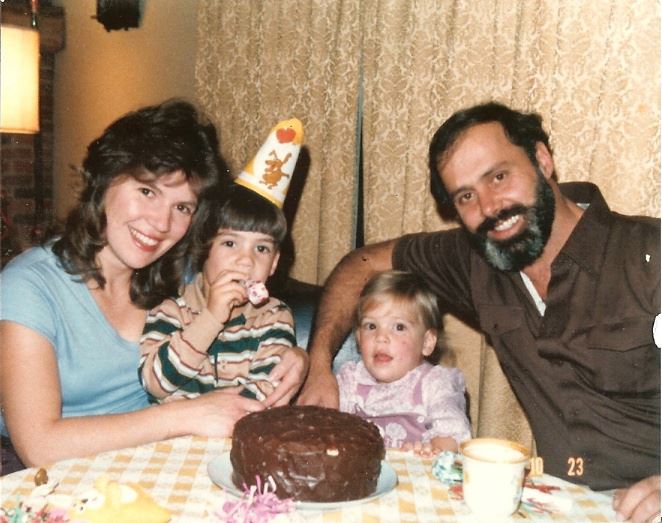 The family enjoyed so much, including many family gatherings at Grandma and Grandpa's, Aunt Valerie and Uncle Dave's, Uncle Ted's, Uncle John and Aunt Jeanne's, poker night at Aunt Cheryl's, pool parties at Uncle Al's, and countless trips across the backyard to their Theo and Thea Zanoudakis's house, or five-houses down on Medina Line to the Plevrises, where the Akron-Greek and Cretan communities would gather consistently. The Pattakos family also enjoyed a few trips to Greece where they would visit Greg's oldest sister, Aglaia, her husband Grigoris Athanasiou, and their children Maro, Panayiotis (Taki), Alexia, and Tsina, and Greg's brothers Pantelis and Nikos Pattakos, as well as Niko's wife (Fotini) and children (Panayiotis ("Taki"), and Taki's wife Angeliki Tsitsiridi, Aglaia Pattakou (Laia), and grandchildren Nicola, Nikos, and Fotini).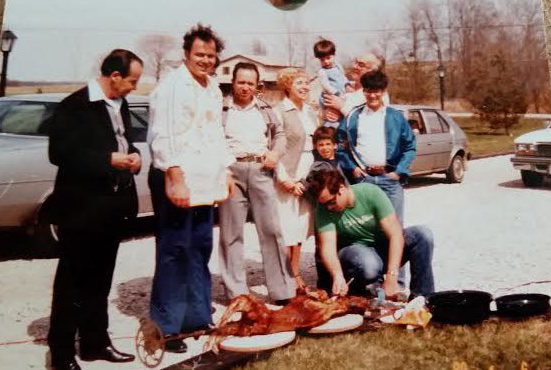 Christina was the apple of Greg's eye, and eventually took over the operation of Advanced Auto Glass from her father. Christina took care of Greg at her home in his last years, with the loving help of her husband, Greg's beloved son-in-law John Ketcham, and many others, including especially the Stathopoulos family.
As for Peter, Greg figured that if Mary Ellen couldn't get him under control then no one would be able to. He was dead right about that until Peter's wife, Colleen McQuown, came along. In the interim, Peter established a decent reputation as a lawyer (first at the Cleveland office of Jones Day, now with The Chandra Law Firm LLC in Cleveland) who works mostly for civil, employee, and consumer rights.
Prior to his retirement (spent mainly in Clearwater Beach, Florida where he and Mary Ellen enjoyed fellowship with the thriving Greek community in nearby Tarpon Springs), Greg served on the Board of Directors of the National Glass Association, the largest trade association serving the architectural glass, and window and door industries. Greg struggled with dementia in his later years, and it was hardly a wonder to his loved ones, who knew that he'd filled lifetimes of action into his time on Earth.
While Greg was often more like the weather than a person to his children, Peter and Christina know they could hardly be more blessed than to have him as their father. Peter and Christina know, thanks to Greg, that one should constantly strive to give to her or his community, that religion is a lot more than showing up at church once a week, and that life, in the end, is all about love. Greg's family knows that they could do nothing better than work to continue the legacy that he helped create.
Greg was predeceased by his brothers Nikos and Pantelis Pattakos, his sisters Aglaia Athanasiou, Evangelia Zanoudakis, Eleftheria Pattakos, and Anna Markos, his mother-in-law Christine (Zedick) Huryn, his father-in-law John Huryn, his nephew Ted Huryn, and his niece-in-law Mary (Kalucis) Zanoudakis; He is survived by, among others, his Great Uncle Stylianos (now 103 years-old), his wife Mary Ellen, his children Christina and Peter, his son-in-law John Ketcham, his daughter-in-law Colleen McQuown, his step-grandaughters (Peter's step-daughters) Naina and Anika Bhalla, his sister-in-law Valerie Morris, his brothers-in-law Kostas Zanoudakis, John Huryn, and David Morris, his nieces Aglaia Pattakou, Mary McNamara, Eleftheria Easley, Mary Anne (Zanoudakis) Wolf, Jessica Kracker, Grace Huryn, Maro Athanasiou, Alexia Athanasiou, and Tsina Athanasiou, his nieces-in-law Jeanne Huryn, Athena Panagos Markos, Alicia Fries Pattak, Angeliki Tsitsiridi, and Brittani Morris, his nephews Emmanuel Zanoudakis, Peter Markos, Taki Athanasiou, Taki Pattakos, Tim Morris, and John Huryn, his nephews-in-law Jonathan Easley, Zach Kräcker, and Mike McNamara, and all of their children and children-in-law, including Nicole Zanoudakis, Victoria Zanoudakis, Michael Zanoudakis, Ashley Wolf, Amy Stewart, Katherine Wolf, Jerry Wolf, Emma Kracker, Noah Kracker, and Phlox Morris.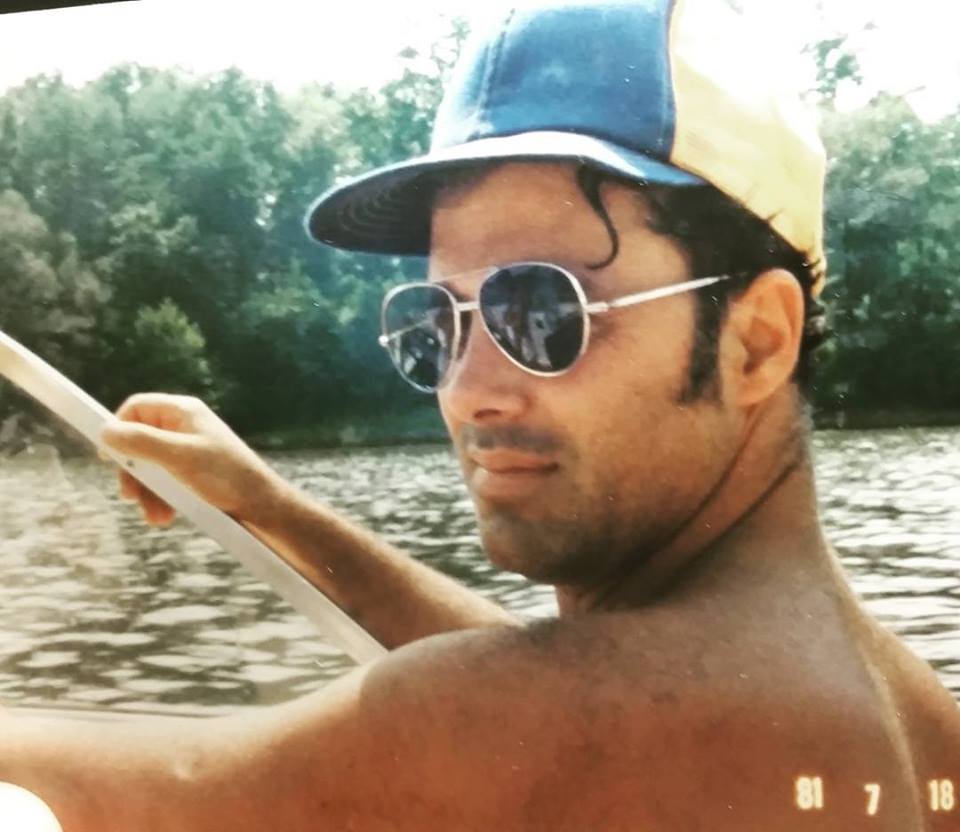 May his memory be eternal. Thanks to all for your love and support.