Before we get into further details of Mike Holmgren's incredible press conference of yesterday in which he explained his decision to fire Eric Mangini as Browns head coach, note that the only tangible reason Holmgren offered for his decision was that "[the Browns] didn't win enough games this year;" that his "expectations were higher." The problem is, the account below is at least as easy to believe in as Holmgren's apparent certainty that anyone could have done any better with what Mangini had to work with this season in Cleveland, or the idea that it somehow wouldn't matter even if Holmgren weren't so certain:
PROLOGUE: The Baby-Billionaire and The Mangenius
Cleveland's historically incompetent  baby-billionaire NFL owner, Randy Lerner, who inherited the Browns from his dad who helped Art Modell move the team to Baltimore, and whose apparent interest in the rebooted franchise amounts to little more than avoiding embarrassment while maintaining a consistently lucrative revenue stream, finally found the blind squirrel's nut when Eric Mangini landed in his lap in January of 2009.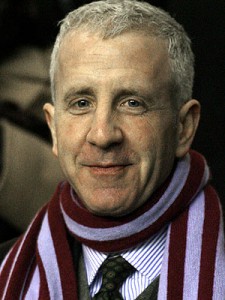 Eric Mangini, Bill Belichick's former protege ("the one Belichick loved the most"), a decent man by all accounts, and as hardworking and talented a young head coach as was thought to be in the NFL, had just been scapegoated for the spectacular failure of the Brett Favre experiment that had been pushed on him by the New York Jets' front office. This, after Mangini had spent three seasons laying the foundation for a consistent winner in New York. The one they called "Mangenius" after his first season in New York, a casualty of a shortsighted and reactive management approach (itself no doubt at least in part a result of one of the worst 'weak sister' complexes in sport), was going to have a chance to right another wayward ship in Cleveland. It was all the beginnings of a uniquely uplifting sports story. Whatever other differences between Cleveland and New York, Cleveland was at least going to be a place with enough space for a certain uniquely talented young football coach to do his job.
ACT I: The Cleveland Press Rejects New York's "Hand-Me-Down" Coach
But any ideas about how Cleveland could be different from New York in any useful way were completely lost on the Northeast Ohio football press. Not a single credentialed local journalist sniffed at the angle that Cleveland might have been lucky to land a talented young coach who'd gotten a uniquely raw deal on the East Coast.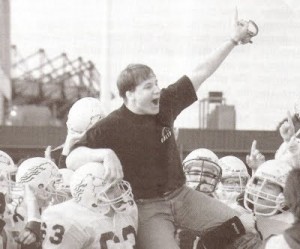 Instead, the locals were all too glad to feast on the same low-hanging fruit as the National media, completely oblivious to or otherwise unconcerned with their reinforcement of an anti-Cleveland, anti-diversity, "Mangini-as-a-hand-me-down" meme in the process. So the primary focus was on the young coach's struggle in mastering the least important aspect of his job, public relations (when Mangini met the Cleveland press for the first time at the February 2009 Scouting Combine, the first words to him from Tony Grossi, the top NFL beat writer at Cleveland's flagship paper The Plain Dealer were, "you're not going to pull the same [crap] here that you pulled in New York" from which point it got much worse), and the dominant theme from the start was that if the coach wasn't good enough for New York, he wasn't going to be good enough for Cleveland either.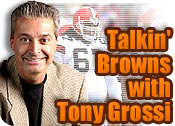 It was this uniquely depraved climate that allowed mountains to spring from molehills at a frequency and magnitude heretofore unseen in the Cleveland sports press. Joe McCarthy would have blushed at the round demonization of Mangini for, among other things, requiring his rookies to perform community service at a football camp for disadvantaged youth, fining a multimillionaire locker room cancer and repeat offender for stealing water bottles from hotels, and the commonplace practice of playing to the end in a shutout loss. This environment is as well characterized by anything as by the absurd incongruity between breathless outrage over certain practice sessions conducted by Mangini's staff and the conclusiveness with which the staff was shortly cleared of all charges of wrongdoing relating to those practices.
ACT II: The Inmates Seize the Asylum
The depravity reached its apex at the 2009 Bye Week, when high-profile Browns "superfan"/circus clown "Dawg Pound Mike" Randall, who's since notably and mysteriously disappeared, took the opportunity to capitalize on the historic wave of media-fueled impatience over the team's 1-7 record and his own access to an email list of season-ticket holders to launch a publicity stunt; an organized fan protest or "walkout" by which participants would express their displeasure with the "direction" of the 1-7 Browns on national television, a scheduled appearance on Monday Night Football against the Baltimore Ravens.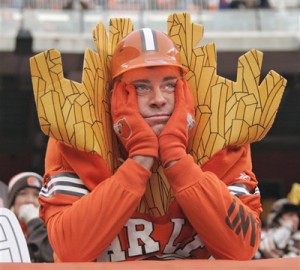 While Randall's protest ultimately fizzled with fans ("Douchebag Mike" chants were more noticeable than any section of empty seats at Browns Stadium that Monday night), the press was thrilled by it. Randall's protest was written up in national outlets from Sports Illustrated to ESPN, and earned him a spot on ESPN's nationally-syndicated "Mike & Mike" show among others. But the most amazing thing about the staged "walk-out" was that it earned Dawg Pound Mike an audience with Randy Lerner himself, who agreed to meet with the "superfan" before the scheduled protest even had a chance to flame out.
What made Lerner's decision to meet with Randall especially surprising was the lack of integrity apparent in Randall's protest from the start. Despite the treatment of the coach by the local and national press, it was still entirely possible to see Mangini's decisions (and the team's win-loss record) as part of a courageous and necessary teardown of an organizational culture that had long gone to rot, a housecleaning necessary to reverse a decade of unprecedented failure only arguably matched by the Matt Millen Era in Detroit. Decisions like the ones to trade Kellen Winslow Jr. and Braylon Edwards hurt the team on the field in the short term, but were easy enough to see as necessary for the franchise to take any long-term step forward. Despite that nobody reasonably viewed Mangini's task as anything less than Herculean, Dawg Pound Mike and his enablers could not or would not begin to address the notion that the protest denied the very concept of a rebuilding process, the protest's primary basis being that the organization (read: "Coach") hadn't reversed a decade of unprecedented organizational incompetence overnight. The suspect nature of Randall's position was magnified by his own disclaimer that he did not purport to speak for all Cleveland Browns fans, and again by the revelation that Randall sought to carve out a career for himself as a player agent.
Yet still, Lerner emerged from a preliminary meeting with Randall promising to hire a "strong, credible, serious leader" to help run the Cleveland Browns, thereby casting Mangini's immediate future in serious doubt, despite that difficult choices made by the head coach revealed him to be the closest resemblance of a "strong, credible, serious leader" in Berea since Lerner had inherited the franchise. One day after this preliminary meeting, Mangini's hand-picked General Manager George Kokinis was fired for reasons that remain (UPDATE: understandably) vague to this day.
Thus, from the ashes of a historically incompetent owner's overreaction to a self-interested stunt on the part of one uniquely-positioned publicity hound, rose Mike Holmgren, no longer wanted in Seattle after only two 10+ win seasons in ten competing the worst division in the NFL , hired as President of the Cleveland Browns thirty-six days after Dawg Pound Mike's protest, and given full authority over all football operations, including that to take on any role in the organization he desired.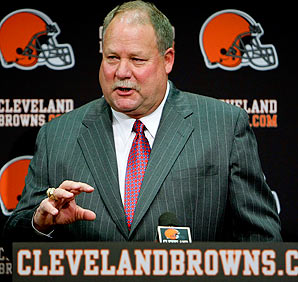 Two days before Holmgren was hired by Lerner, the Browns won the second of what would be four consecutive to close the 2009 season, the franchise's longest winning streak since since 1994, and one that included a win over the Pittsburgh Steelers to break a six-year losing streak to the Browns' bitter rivals.
———-
We'll pick up with Act III tomorrow.
UPDATE: Click here to read Act III.