If you're like a lot of Clevelanders, you drive through America's second-most dangerous (hip, trendy, walkable) neighborhood all the time. And then right past Biggie's Food Mart and gas station at the corner of East 55th and Cedar, where, for most of the last month or so, an electronic sign has been flashing a message labeling Cuyahoga County Prosecutor candidate Tim McGinty a racist, and urging voters to vote against McGinty in next Tuesday's primary that will effectively decide November's election.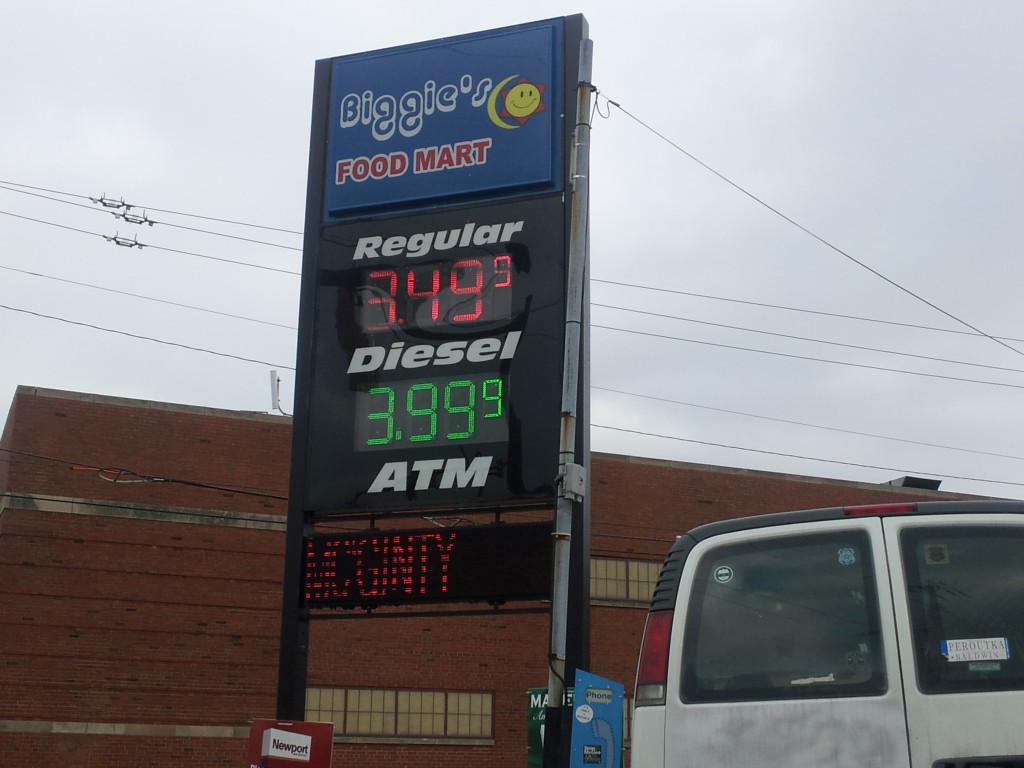 Specifically, the message flashed as follows, in all caps: "Don't need … any more … racists in … office! … So, vote … against Tim … McGinty … vote no for … racist … McGinty!!!"
And if you're like a lot of Clevelanders you also know that this isn't the first time that the folks at Biggie's have used their property to make political statements, as they've made news in the past for having posted a series of murals on the walls of the E.55th facility, some of which were extremely inflammatory.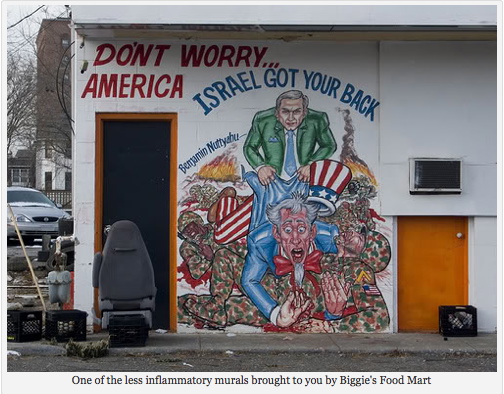 The owner of Biggie's, Brahim "Abe" Ayad, a forty-something Palestinian-American who lives in North Olmsted, once explained to Douglas Guth of the Cleveland Jewish News that the murals represent his "protest against 'evil-doing Zionists' who, among other offenses, he claims, took away his Palestinian father's land to make way for the state of Israel." Ayad further explained that "[t]he shocking imagery on his walls are his way 'of fighting fire with fire,' and that '[i]f they want to insult me, they should know how it feels to be insulted.'"
Since the Biggie's owner was willing to discuss the reasons behind his political statements in the past, I figured I'd stop in to ask him why he feels so strongly about McGinty.
I first spoke with Abe's son, Mustafa Ayad, who expressed general dissatisfaction with Cuyahoga County justice by way of a pair of anecdotes about a police raid on his father's home, and a case involving his own response to an attempted armed robbery of Biggie's, and said that his father would be able to provide specifics regarding McGinty. When I gave Mustafa my business card so that his father could get in touch, I told him that I hoped that the fact that I worked for Jewish people wouldn't keep his father from getting back to me, and that it shouldn't because the folks at my office are good ones. Mustafa responded with a nod and said, "then they're not Zionists."
Later that day I received a phone call from permanently disbarred Cleveland attorney Michael Troy Watson, who told me that he was responding to my inquiry on Abe Ayad's behalf.
Watson explained that before he was disbarred in 2005, he was retained by Ayad to represent him in a suit against the Jewish Defense League and the Anti-Defamation League. According to a 2008 Ohio Supreme Court filing by Ayad and Watson in a separate matter, Ayad alleged in this suit "[defamatory] internet and violent attacks of both Jewish Organizations with the stated intent to cause Ayad harm, including threats on his life, attempts to harm his children, attempts to effect his Sunoco Gasoline Station, and other acts of intended harm, discrimination and/or intended to be the cumulative actions of the Jewish Community against a Palestinian Arab." McGinty was the Cuyahoga County Court of Common Pleas Judge who was assigned to preside over this case, which, according to Watson, was eventually settled out of court.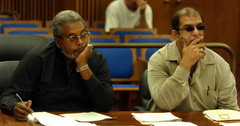 Watson didn't have much specific to say about McGinty's conduct in this case, but did say that his own representation of Ayad here resulted in a Zionist conspiracy against him, which is what caused him to be disbarred (See video of Watson's oral argument before the Ohio Supreme Court on his disbarment here). Relatedly, in 2008, Jim Nichols reported in the Plain Dealer on a lawsuit by Ayad and Watson against the parent company of Cleveland radio station WERE (1300 AM) relating to a contract by which Ayad and Watson paid to broadcast a weeknight program called "Politically Damned." According to Nichols, the pair "assert[ed] that they are victims of a vast Jewish conspiracy that has corrupted Ohio courts," including "the Cuyahoga County Democratic Party, and also … Jewish influences in the bar [associations], particularly the … [Anti-Defamation League]."
When asked if there was anything more specific to support Ayad's allegation that McGinty is racist, Watson followed up with specifics on a story that Ayad's son had told me earlier in the day about a 2009 raid on Ayad's home by police executing a search warrant that, according to Watson, was signed by McGinty. Watson added that Ayad's house was ransacked, his assets were seized, and his family, including his daughters, were "slapped down" and forced to kneel in the snow in their nightgowns without the head-covering garments required by their Islamic faith. The former attorney for Ayad further said that this warrant related to baseless allegations of food stamp trafficking, and that after investigation no charges relating to this warrant were ever brought.
Which might have something to do with the paper sign (since removed) posted at the Biggie's food counter three weeks ago, reading: "Vindication Exonerated, EBT Now Welcomed again." (Note: "The Ohio EBT Card, known as the Ohio Direction Card, is like a bank debit card and holds the food assistance benefits assigned to you each month.")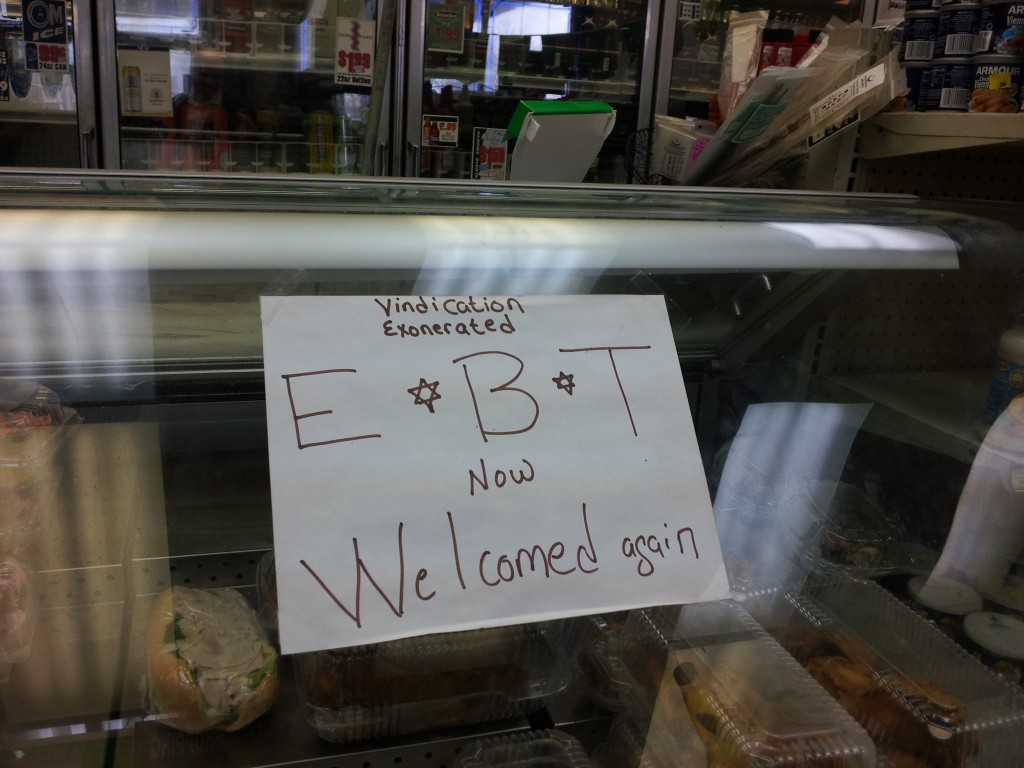 Whether or not McGinty actually did sign a warrant for a search of Ayad's home relating to an investigation that resulted in no charges being brought, it's clear enough given McGinty's role presiding over Ayad's case against the ADL that the parties here go way back with respect to something that Ayad takes extremely personally.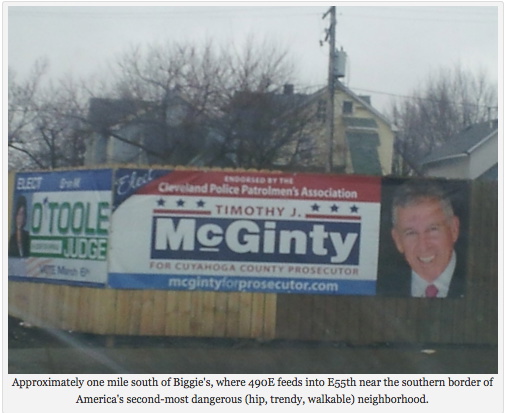 So with our big question answered at least in part, here are some more photos from Biggie's.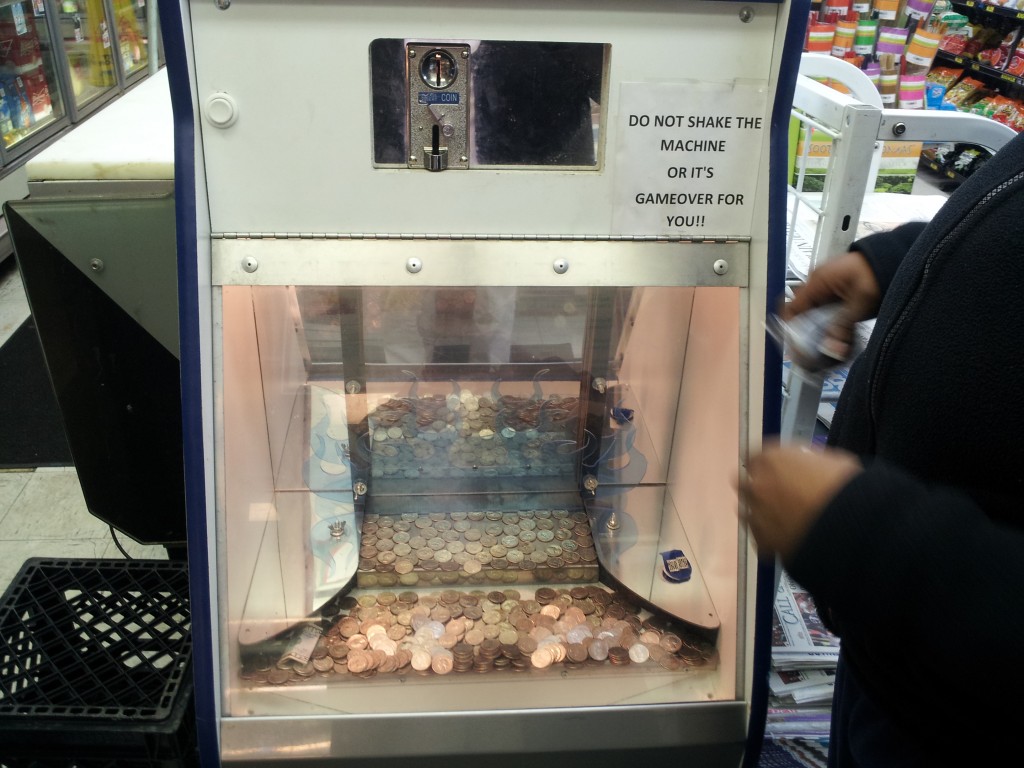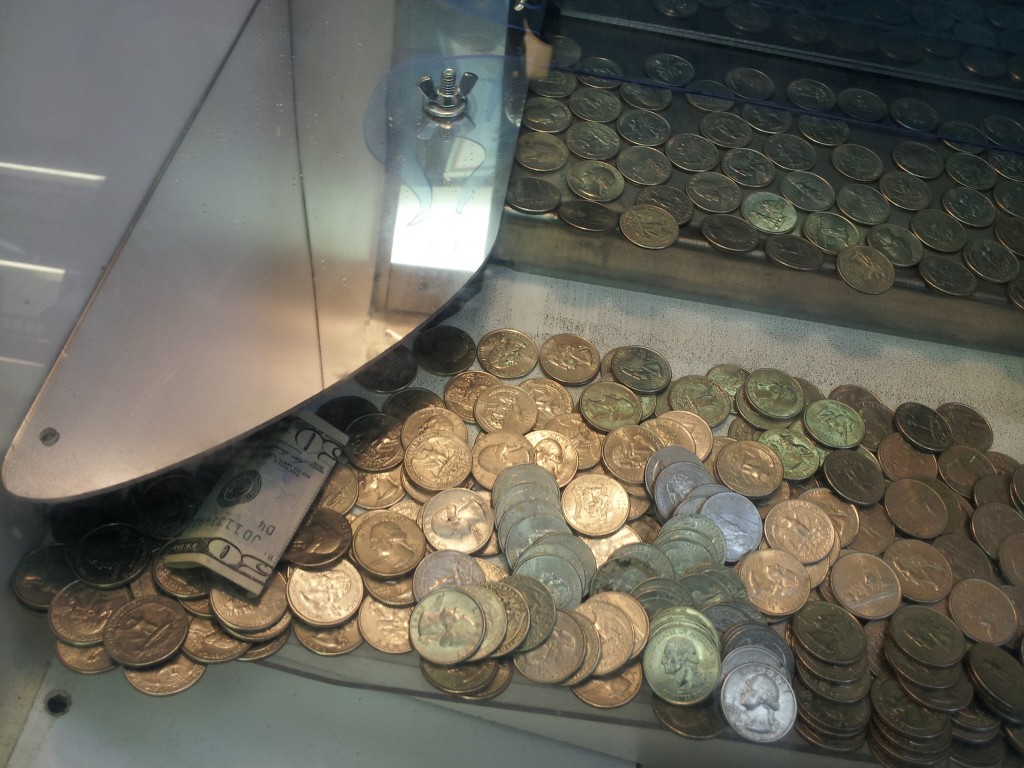 The idea here is to drop quarters on to the moving platform so that they're pushed off the ledge where they'll eventually pile up high enough to cause an avalanche into the part of the machine that's accessible to the player (like where coins would come out of a slot machine). There used to be one of these at Cedar Point.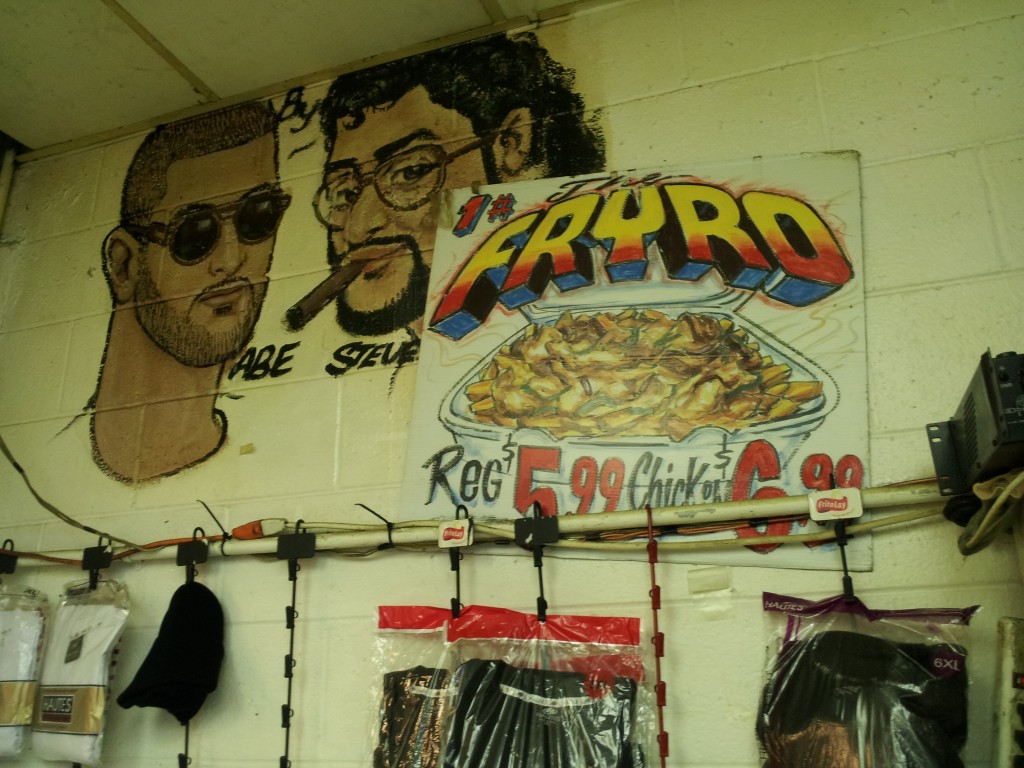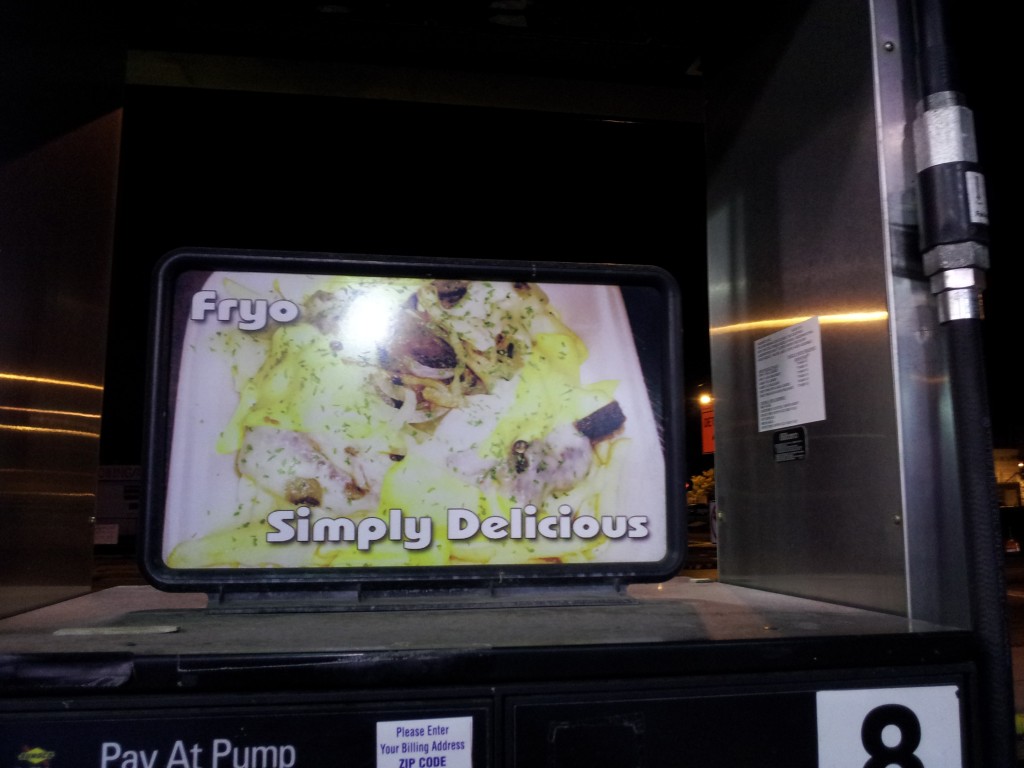 The Fryro is a Biggie's specialty; a massive unrolled gyro with eggs, cheese and french fries.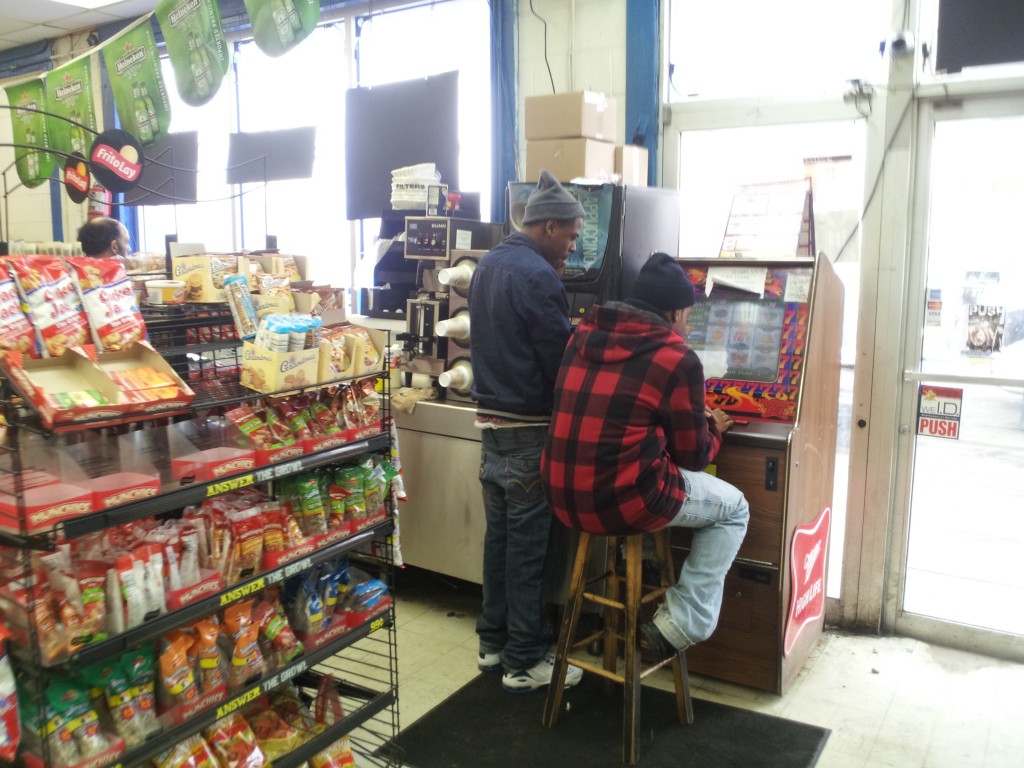 In a 2011 report by 19 Action News about a Columbus convenience store that rid itself of "loiterers" by blasting classical music outside of its doors, Ayad provided a counterpoint, noting that "not only do ['loiterers'] spend money, but they are just people looking for a some personal interaction."
"I wouldn't want to keep any loiterers away. Everybody has a story. Every life is a story. I like to have people around," said Ayad. "You're in the business to get em in! Why would you want to get rid of them?"
Yesterday, the Biggie's marquee was flashing a message urging voters to punch the ticket for Ron Paul in Tuesday's primary for the Republican presidential nominee.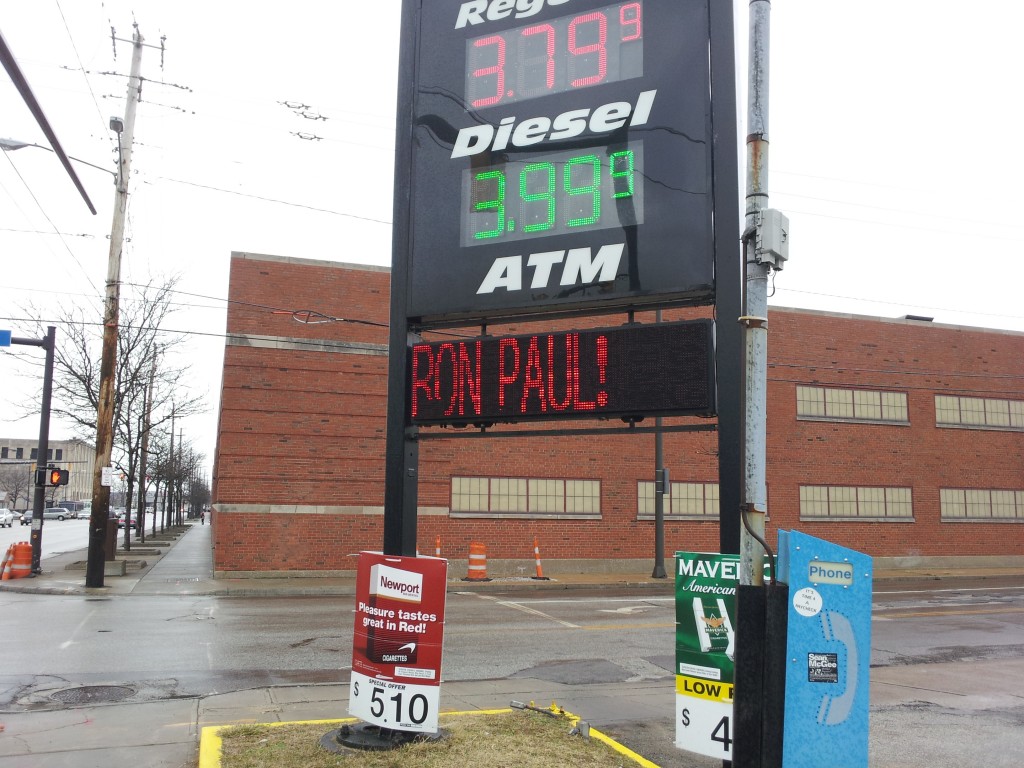 Tony Pashos nods approvingly until he sees the whole thing:
IF YOU LOVE

GOD AND

COUNTRY?

VOTE FOR

RON PAUL!

JUST FOR

REPUBLICAN

PRIMARIES

OBAMA ALL

THE WAY

BABY!!
Alright, big day on Tuesday, don't forget.