Art Modell's acolytes in the Baltimore press are at it again and the latest might be the worst yet. ESPN's Jamison Hensley, former longtime Ravens reporter for the Baltimore Sun closes his column with a tug at the heartstrings.
"I still believe Modell will end up [enshrined, but t]he moment will be bittersweet," Hensley says. "[B]ecause Modell should've been there a long time ago. He should've been there in Canton to enjoy it."
But only after he ignores the mountain of evidence against a Modell candidacy that stands fully apart from what Art did to Cleveland and the Real Browns in '95 ("Take away the relocation and Modell is a slam dunk to get in," says Hensley), to completely dismiss the re/dis-location issue by pointing to legendary Hall of Fame Raiders owner Al Davis, first by way of a ridiculous and transparently self-serving quote from Modell himself:
Before Modell's final season as the Ravens' majority owner in 2003, I asked him about his chances of ever reaching Canton. His response: "I know [Raiders owner] Al Davis is in and he moved the team twice. Doesn't that say something to you?"
From which Hensley extrapolates:
It's hard to argue against Modell on this point. Davis was enshrined in 1992, which was 10 years after he moved the Raiders from Oakland to Los Angeles. The Hall can't have one set of rules for Davis and another for Modell.
OK.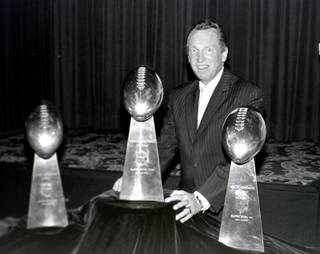 Because a guy who makes a living writing about the NFL for the worldwide leader in sports coverage needs to be reminded that a comparison to what Davis meant to the Raiders and the NFL to that of what Modell meant to the Browns and the same is more than completely backwards in this context, here's the Kanicki website setting forth in detail that Modell actually comes nowhere close to Davis as a "pioneer and original thinker in the fields of coaching, talent acquisition, competition, branding, and culture."
And because Hensley wants to lionize Modell as "a leader on diversity" due to Art having made the no-brainer move of appointing Ozzie Newsome the Ravens GM, it's worth a look back at the excellent 2011 eulogy from Mr. Destructo on Davis that gets into some useful detail on what it means to be a real "leader on diversity":
For years, we've been treated to "Al Davis: Evil, Insane Megalomaniac," and questions about whether he's ruining football. And, really, it's not surprising when you consider how he's made a career rejecting the NFL's power structure, the people most of the mainstream NFL talking heads spend roughly 25 weeks per year taint-sucking like shit-starved remorae. At the beginning of the 1980s, he committed the greatest of all possible sins: he challenged the NFL's monopoly in court on an anti-trust basis and won, later endorsing the USFL. (Oddly, Howard Cosell has some of the most entertaining and passionate coverage of Davis' legal battles in an otherwise terrible book.) On top of a career of fierce loyalty to players even after trades or retirement and criticism of their treatment by the league, he abstained from the recent owners' votes on the NFL labor agreement. In effect, he's been a traitor to his class for three decades, advocating increased competition for ownership, challenging their preposterously cozy legal status, while giving aid and comfort to the labor pool that tries to suck owners' idly accrued wealth rightfully downward.

This open support of players was perhaps best exemplified by his courting of outcasts, malcontents and head cases. For most of his career, Davis succeeded with bad guys, non-"character" guys, the people who thwarted the league-desired and often team-enforced player image. His stewardship of the Raiders started when other teams still dressed in matching colored blazers for travel days. Later, his bearded, countercultural and fast-living players gave the lie to the canard that "character" brings excellence. Instead, the Raiders showed that excellence makes character irrelevant. Nothing creates chemistry like winning; as we saw with the Boston Red Sox this season, nobody goes in search of the wrong personalities and the wrong character until a losing streak. The Raiders' very existence impeached the corporatized, authoritarian, consumer-oriented bleaching of players in the name of a cynical morality.

That last pro-individual, anti-market impulse marks the basis on which we should celebrate Davis the most. In the 1960s, Davis was willing to risk alienating the lucrative football-crazy southern market when he pulled two games from venues there after learning that black players would be segregated in separate hotels, away from their teams. When it came to markets or morals, Davis told Jim Crow to go f*ck itself. Later, he required no NFL-imposed rules to push to recruit black players in the south in the 1950s, to hire the first female CEO, the first (and, for 32 years, the only) hispanic head coach or the first black head coach in the modern era. On that last account, he beat the Pittsburgh Steelers' Rooney family by 17 years.
So what did Modell do again? How was he a leader of anything in comparison to Davis?
—————
UPDATE: Jamison Hensley "responds."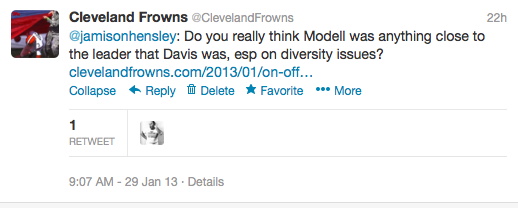 —————
Don't forget to read Kanicki's and Mr. Destructo's posts because there's a lot more there.