Below is the text of a press release issued by the Coalition Against the Sin Tax (C.A.S.T.) in response to yesterday's election results, with links added for reference.
————-
Yesterday, by a margin of approximately 56 to 44 percent (101,717 votes to 78,741), Cuyahoga County voters approved Issue 7, also known as the Sin Tax to fund maintenance and improvements to Cleveland's three pro sports facilities.
Unfortunately, the pro-Sin Tax "Keep Cleveland Strong" campaign, funded primarily by the City's pro sports team owners, was able to outspend the opposition by millions of dollars and a 30-1 ratio to run a campaign to convince taxpayers that by voting No on the Sin Tax, Cleveland would somehow be weakened. We have disagreed with that premise from the start, and over 78,000 people and 44% of the County's voters shared in our disagreement. These voters recognized the lack of wisdom in the proposed plan to hand the owners this $260 million-plus subsidy on terms established in the 1990s, with no public call to reevaluate the fairness of these terms, and no meaningful examination of alternative funding mechanisms. This $260 million-plus subsidy will add to the $1 billion-plus in public money that the owners have already received to run the hugely profitable sports franchises.
We challenged our elected officials, civic organizations and leaders of our business community to think differently. We wanted a better way of approaching our obligations to the owners, and recognition that the status quo in Cleveland isn't good enough. In a city with more than half its children living in poverty, one of the very worst public school systems in the nation, third-world infant mortality rates, a rapidly shrinking population, and a vanishing job market and middle class, it could hardly have been a worse time to have rubber-stamped the Sin Tax on terms from the 1990's with no questions asked.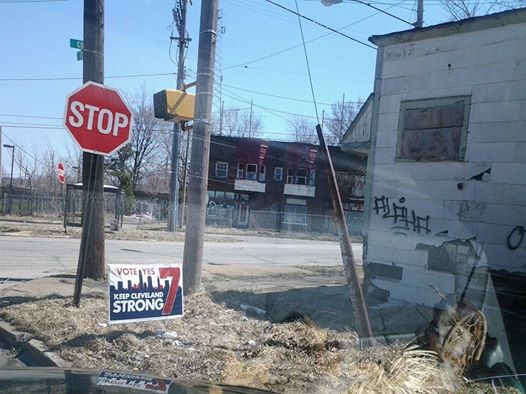 Yet we are encouraged that even despite the vast disparity in campaign spending, and even despite the misleading threats employed by the pro-Sin Tax campaign, 44% of Cuyahoga County voters still understood that there is no good reason why the team owners can't pay their own costs to run their businesses when the County has so many other urgent needs. We are certain that this is far from the end of the conversation about the relationship between the team owners and the public. If we were able to raise awareness of critical issues relating to public priorities, inequality, fairness, and transparency in making such large-scale public investments, then we consider our effort a success.
"When we had a chance to speak to voters about what was really at issue in this campaign, we found that they were overwhelmingly opposed to Issue 7," said C.A.S.T. chair Peter Pattakos. "There is every reason to believe that the Sin Tax would have been defeated had the funding for the opposing campaigns been remotely balanced. When there are no limits on the influence of money on elections, democracy suffers. As much as anything, this campaign has shown how important it is for people to stand up for themselves in a cash-soaked political landscape in which elected officials and the mainstream press have proven to be unable to fulfill their intended roles. We're optimistic that this is an early phase of a broader and highly beneficial public awakening to this reality."