Since the news broke in early January that Chief Wahoo would be demoted from its position as the Cleveland Indians' "primary logo" in Major League Baseball's branding style-book, a couple of pro-Wahoo Facebook groups have picked up steam, with the "Keep Chief Wahoo" and "Protect Chief Wahoo" pages having added a combined 3,200+ members mostly over the last two months.
And in related news, everybody please welcome the Plain Dealer to 1964, as the newspaper finally decided to proclaim last week that Wahoo "represents a racially insensitive stereotype of Native Americans." In expressing its opinion that it's time for the Indians organization to "make a clean break" with the logo, the PD's editorial board explained that "[f]or many, getting rid of Wahoo means giving into excessive political correctness," and that was "why this editorial board has hesitated in the past to take a position."
So as much as you might not have been wondering very much about what's at the bottom of a person's decision to prioritize his attachment to a baseball team's logo over the right of a race of people to not have a dehumanizing caricature of itself made into a baseball team's logo, it's worth noting that Cleveland's only daily newspaper was worried enough about offending this crowd. And, more to the point, Cleveland's Major League Baseball team still is.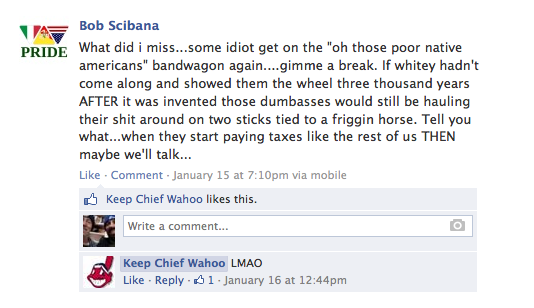 [click to continue…]
{ 64 comments }