Two Saturdays ago I had a close brush with the Ebola virus. Laura Johnston of the Northeast Ohio Media Group has the details here, with commentary by Scene's Eric Sandy here and others here, here and here.
Of course, calling attention to a deadly virus that has little to no risk of spreading in the U.S. doesn't threaten advertisers' bottom lines any and only keeps eyeballs glued to screens, so we get a wall-to-wall freakout in the press. Meanwhile, critical problems that are exponentially more threatening to humanity continue to be ignored or misrepresented in the media because advertisers are by and large resistant to the structural change that's necessary to solve them. If there's a silver lining to this Ebola hysteria, it's that it goes to show that we might actually have a chance at solving our real problems if we could only manage to have media that would present them as such. High hopes here in Cleveland, where the editorial page of our only "daily" newspaper is edited by a man who just wrote this column:
"If the climate changes, we'll adapt," says Kevin O'Brien.
Just like the dinosaurs did.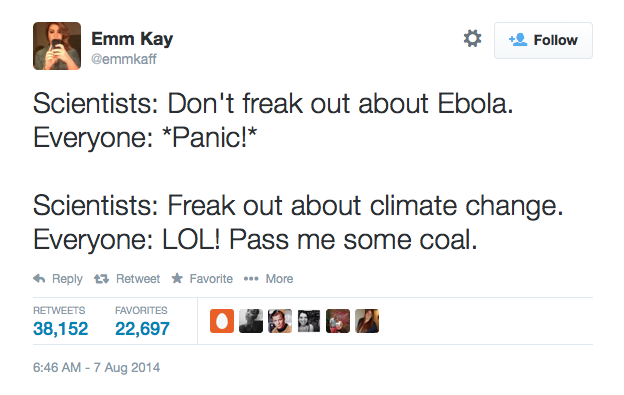 Anyway, speaking of things that will make you bleed from your eyeballs, the Browns [click to continue…]
{ 18 comments }