Last week the Browns made national headlines and put the local news cycle on freeze with a heavily promoted "rebranding" that turned out not to be a rebranding at all. For all the many ways this offseason has somehow again plunged the franchise to new depths of league-laughingstock status, the "rebranding" episode was actually glorious, and a much-needed reminder of how great it can be to be a Browns fan.
To review, the organization undertook what it announced as a two-year design process that resulted mainly in turning its primary logo from an orange football helmet to a slightly redder-orange football helmet.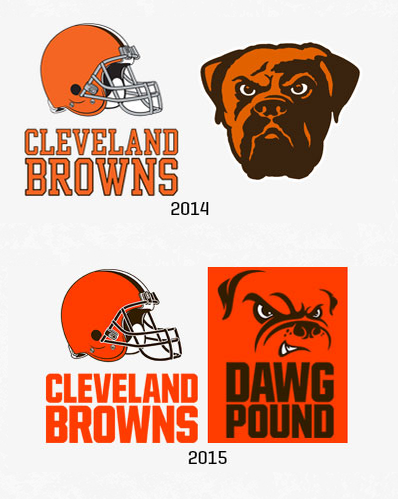 While national responses to the redesign ranged mostly from disappointment ("Completely underwhelming," said the Washington Post's Matt Bonesteel) to mockery, ("50 shades of orange!," said pretty much everyone else) many locals were rightly relieved.
Given owner Jimmy Haslam's well-documented drive to squeeze every last penny out of his business ventures, humanity be damned, it was little surprise that he wanted to print up some newly branded merchandise to sell shortly upon taking control of the Browns in 2012. Yet, that anyone still watches this football team at all after the last 20 years of otherworldy failure is proof enough that the franchise already had the strongest brand in the history of commerce. That the logo would remain so much in tact after this clash of unstoppable force with immovable object is a testament to how great it can be when something original is allowed to stay that way.
The Browns are the only [click to continue…]
{ 26 comments }