After the Browns finished 7-9 last season for their best record since 2007, the NFL schedule-makers were encouraged enough to reward them with a slot on Monday Night Football for the first time since 2009. The Browns rewarded the schedule-makers in turn by arriving for the showcase event with a 2-9 record, helping to make for "one of the least attractive matchups in Monday Night Football History." Still, they were considered 4-point favorites playing at home against a 3-8 Ravens team that had lost its quarterback and a number of other key starters to injury. Before the game, Browns players were talking about how the Monday-night lights could help them turn their season around. And on what would be the game's last play, with the score tied, they set up to kick what would have been a game-winning field goal. Seconds later, though, they'd become only the second team in NFL history and the first in three decades to lose on a walk-off blocked field goal return. The videos capturing live reactions to this ending are like Guernica.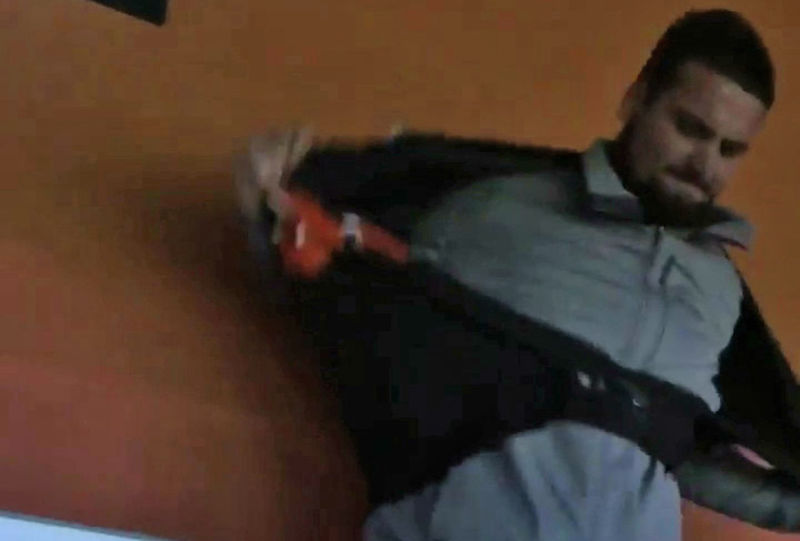 The level of anguish on display here is something to appreciate. It's not as if these fans didn't know that they were sitting in a building popularly known as "The Factory of Sadness," to pull for a 2-9 team and national laughingstock of franchise that's had only two winning seasons since 1999, hasn't won a playoff game since 1995, and is one of only two non-expansion franchises (Hello, Detroit!) to have never reached a Super Bowl in a league that makes every accommodation for parity. Red Right 88, the Drive, the Fumble, the Move, and everything after that, of course, it's not at all as if Browns fans aren't experienced with unthinkable disappointment. It's that even despite all of it, Browns fans are still around, all they wanted was for their team to make a decent showing in its first Monday Night Football appearance in six years, and what their team did instead was remind the world why it's become a synonym for failure against all odds. "Damn if those Browns didn't go and out-Browns themselves again!"
With another win for this team as unlikely as it is, the Monday-night meltdown served as an exclamation point on a campaign of bewildering ineptitude. The most bewildering element of which being a defense – incredibly, the highest paid defense in the NFL – that's given up more points than all but one other team's, and more yards than all but two. There's also the offensive line. Manned by Hall-of-Famer Joe Thomas and two more with Pro Bowl credentials, it was supposed to be a major strength. Yet the Browns are ranked last in the league in rushing, and first in quarterback-sacks taken. When head coach Mike Pettine said before the season that the Browns would "run the ball and stop the run," it was hard to imagine they'd be among the NFL's absolute worst at doing both.
Naturally, a lot of fans and press are now calling for Pettine to be fired after this, his second season on the job. If this happens, he'd be the fourth consecutive Browns head coach to be terminated within two years. In large part for this reason, it would be as hard as ever to find a suitable replacement for him. The search that landed Pettine in Cleveland in the first place became its own national punchline when even mediocre candidates declined to be interviewed for the job. The perception of Cleveland as a can't-win destination for potential coaches would only be further supported by reports that Pettine is "mightily respected" by his players, and that his team is a hard-working group undermined by a meddling (and worse) front office and its failed first-round draft picks who are constantly sucking all the air out of the locker room.
Of course, there's always next year's draft and the possibility that Cleveland might finally land the ever-elusive franchise quarterback to turn things around. But this hasn't worked with any of the four first-round picks the Browns have spent on a signal caller since 1999. They do have the inside track on next spring's first overall pick, but as much as "consensus franchise QB prospect refuses to sign with Cleveland" should be filed under "inevitable future Browns headlines," there's no such prospect available in this draft. It might be that a sufficient quarterback is already on the roster, but however one might be identified, the Browns would still have to maintain a level of organizational stability unseen since the 1980's to allow him to succeed.
So, suffice to say that Browns fan's traditional late-season mantras – "fire everybody," "the draft is only 144 days away" – are as hopeless as ever. Maybe that's just as well, and staying the course is the best way forward. But all we can reasonably expect after the last three decades is that the disappointment will continue in extremely improbable ways.
And still, after every round of torn jerseys, radio rants, and open letters to management, these displays of renunciation must be accepted as ultimately futile. Certain reasons for identifying with this team are impossible to abandon, so it's impossible for even so-called former-Browns-fans to avoid identifying with the losing in some way.
In this respect, the only thing that might help is to remember that the franchise has as little to do with Cleveland as it ever has. The NFL was one thing when the Canton Bulldogs would follow the canal 20 miles to play the Akron Pros. It was even another thing when Browns fans could buy insurance policies from Lou Groza in the off-season, or find Art Modell out in public on any given night. But Modell's corpse and Super Bowl trophy are in Maryland, Randy Lerner is in London, and Jimmy Haslam extracts his annual 8-plus-figure annuity from Tennessee. Carmen Policy's winery is in California and Mike Holmgren's umbrella drinks are in Hawaii. You can get a good look at Joe Haden's jewelry on Instagram, but he's flying south with the rest of his teammates and bosses as soon as football season is over.
It's also worth remembering that back when the Browns were last capable of winning playoff games, the Canadian Football League was at least somewhat competitive with the NFL in terms of attracting talent, as when Notre Dame star Raghib "Rocket" Ismail signed out of college with the Toronto Argonauts. Since then, this semblance of competitive balance has been obliterated by the influx of TV money into the American sport.
Which suggests it's no accident that the deterioration of the Browns – along with Cleveland's job market, middle class, and social safety net – has coincided so perfectly with this TV-cash explosion that Modell himself did so much to create. While the NFL was born in the industrial era, it wasn't fully bought and paid for by corporate industry until the TV money came in. Since then, what else could the NFL have done for Cleveland (or Detroit, for that matter) other than exactly what industrial capitalism has? Extract and vacate. The Cleveland-football-type-substance sells the cars, beer, and war. The profits go somewhere else. Winning football games is secondary and increasingly unlikely the further removed the host city is from this economy's benefits. In this era, there couldn't be a more fitting owner for Cleveland's NFL team, no one better to follow the Modell blueprint, than an out-of-state fracking pioneer, America's largest private purveyor of fossil fuels, and rebate-scam-artist extraordinaire.
Extract and vacate. From Browns fans' wallets, hearts, and souls. How could Jimmy Haslam's franchise ever be capable of anything else? And what better showcase for this truth than Monday Night Football, Modell's invention that's done so much to enable the extraction?
If this run of impossible failure can lead Browns fans to this conclusion, the unbreakable affiliation with the orange helmets will have been worth something, and there's reason to hope it can lead somewhere else. Sports are supposed to be fun.