As much as some folks would like to believe that the Cleveland Indians are in the process of phasing out Jim Crow/Third Reich relic Chief Wahoo as an official symbol of the franchise, the highest ranking representatives of the organization keep saying that Wahoo is here to stay. Most recently, Indians President Mark Shapiro was asked about the issue on Monday by Tony Rizzo in an appearance on Rizzo's "Really Big Show" on ESPN's Cleveland radio outlet, 850 WKNR, and echoed nearly word-for-word what the club's owner Larry Dolan said the last time he commented publicly on the subject.
The whole interview is available here at ESPNCleveland.com, and here's a transcript of the exchange on Chief Wahoo, which begins at the 7:25 mark.
Rizzo: "Alright, I've gotta ask this because there's been rumors flying around and I want to get to this … I love the [block C] hats.. and I notice a lot of C hats, a lot of younger people are wearing the C. Some of the older people still have the Chief Wahoo. Mark, are you guys phasing out Chief Wahoo?"

Shapiro: "No, Chief Wahoo's not going anywhere. [Crowd applauds, Shapiro laughs nervously] We, we, are certainly doing our best to, uhhh, huhhh, to promote the C because the C is something that we're proud of. The C, we're proud of because it stands for Cleveland and that's you know, we want our team, we want our our fans when they see our team play to know that who we're representing are the Cleveland Indians. And uh you know we feel like the C, ah you know, maybe more than some of the other logos we've tried over the past years is one that's gonna stick and one that is traditional and one that if you look back in the early 1900s for about 15, 20 years that block C was a part of the Indians' history. So, I'm a big traditionalist, our uniforms reflect some tradition throughout them. Even the script "Indians" has went back away from the shadow to the single outline more like the 40's, so you know we've got the script Indians, we've got the C, and we've got Wahoo. All three are important to us, all three are gonna be featured prominently. But I think what you've seen is, the fact that we've pumped up a new logo so much, and that it's become such a core part that yes it does pull away and detract a little bit from the Chief, but the Chief is still on every uniform that we've got.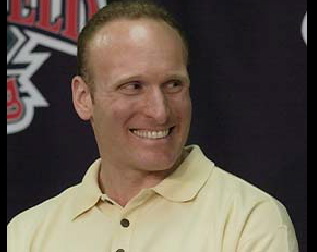 So "C" is an important reminder that the Indians are from Cleveland, Shapiro is a big traditionalist, Chief Wahoo is important, too, and will continue to be "featured prominently," including, presently, on every uniform that the club has. "Chief Wahoo's not going anywhere."
With that, Rizzo presses on, extremely lightly:
Rizzo: "I was listening [to another WKNR show] and they were you know talking about the whole Chief Wahoo thing and I heard some Native Americans calling in. Some said that they were going to be here today [to protest the franchise's continued use of the symbol]. Mark, what is the official position of the club on the, on the whole, you know, Chief Wahoo thing, and and for the the small minority of people that seem to find it offensive.

Shapiro: "Yeah I mean I think you always want to be sensitive to anybody that finds it offensive, that, you know ultimately the Indians name and the team, ah, is in recognition of our pride and affiliation with the first Native American baseball player. So I think what we choose to do is celebrate, you know, Louis Sockalexis and and his history and tradition with the Indians and, and not to focus on uh anything that we would view, that, you know, anything that we don't view and certainly don't want to put, uh, be offensive to anyone."
All credit to Shapiro, of course, for completely losing his ability to speak English once he started to try to say that Chief Wahoo "celebrates" Louis Sockalexis's history with the franchise. But sadly, that was where the conversation about Wahoo came to an abrupt end, with Rizzo's co-host Greg Brinda moving right on to discuss improvements to Progressive Field.
As much as one might like to thank Rizzo for even bringing up "the, you know, um, ahhh, the whole Chief Wahoo thing," any such credit is more than wiped out by his cowardly failure to ask the obvious follow-up questions about Wahoo's roots in Jim Crow, and a time period where the majority race in the U.S. was much more concerned with enacting "miscegenation" laws than with honoring or "celebrating" any other race. Rizzo might also have pointed out that every historian who's ever analyzed the issue has concluded that the only thing the "Indians" name could have conceivably been meant to "celebrate" was the notion of Natives as anachronistic savages, and that the only influence Sockalexis had on the name was by way of sportswriters' nostalgia for the sensational brutality to which he was subject on the ballfield before he shortly drank himself to death.
Really, how hard would it have been?
"Hey, Mark, but wait, really, look at this thing. Look at Chief Wahoo. Really, how could this possibly honor a Native American or anyone? You know what happened to Sockalexis when he played for Cleveland, don't you? And look, don't you think Wahoo looks a lot more like these caricatures of Jews that were used to reinforce a program for their extinction in Nazi Germany, or these caricatures of black people that were used to reinforce segregation under Jim Crow? Wahoo was made at exactly the same time as these other caricatures, Mark. And look at this cartoon that was in the Plain Dealer on the day they announced that the team would be named "Indians." Slavery, patriarchy and the divine right of kings were pretty well established traditions, too. Why in god's name does Cleveland still have this thing as an official symbol of anything?"
But of course, WKNR's practice of hosting press conferences for the local ballclubs has been good enough business for Rizzo, which is why he's the one who gets to talk to Shapiro in the first place.
Anyway, to Shapiro's comment that "you always want to be sensitive to anybody that finds [Wahoo] offensive": In addition to continuing to feature it on every uniform that the club has, and continuing to reassure the public that "Wahoo's not going anywhere," another way that the franchise shows its sensitivity is by working with the City of Cleveland to set up barriers to keep the annual protesters from the Committee of 500 Years of Dignity and Resistance as far away from paying customers as possible (click images to enlarge). Which didn't stop the paying customers from issuing the customary passive-aggressive faux war-whoops from across the way in response.
And here's a couple shots of the WKNR-promoted Opening Day party scene in the parking lot on East 4th Street where Rizzo's Shapiro interview was conducted, to give you a look at who was cheering when Shapiro announced that Wahoo isn't going anywhere, as well as the kind of "Steubenville High is 21-and-over now and has a big party at the ballpark one day a year" culture that the Indians organization is apparently so afraid of upsetting in its continued embrace of the logo.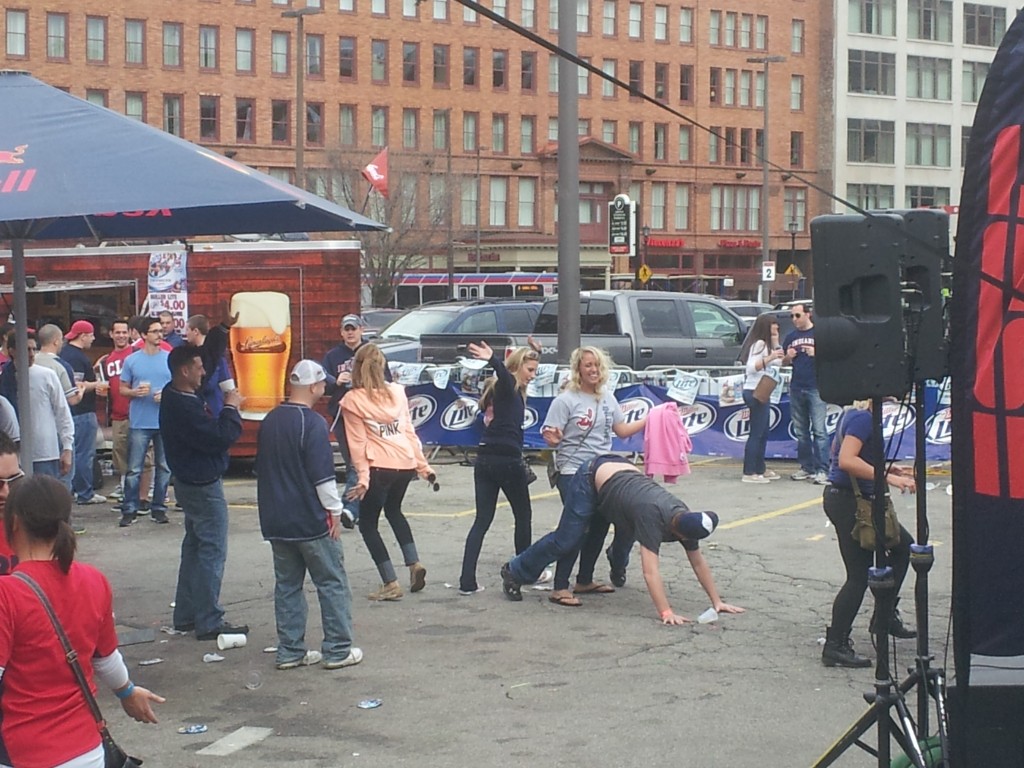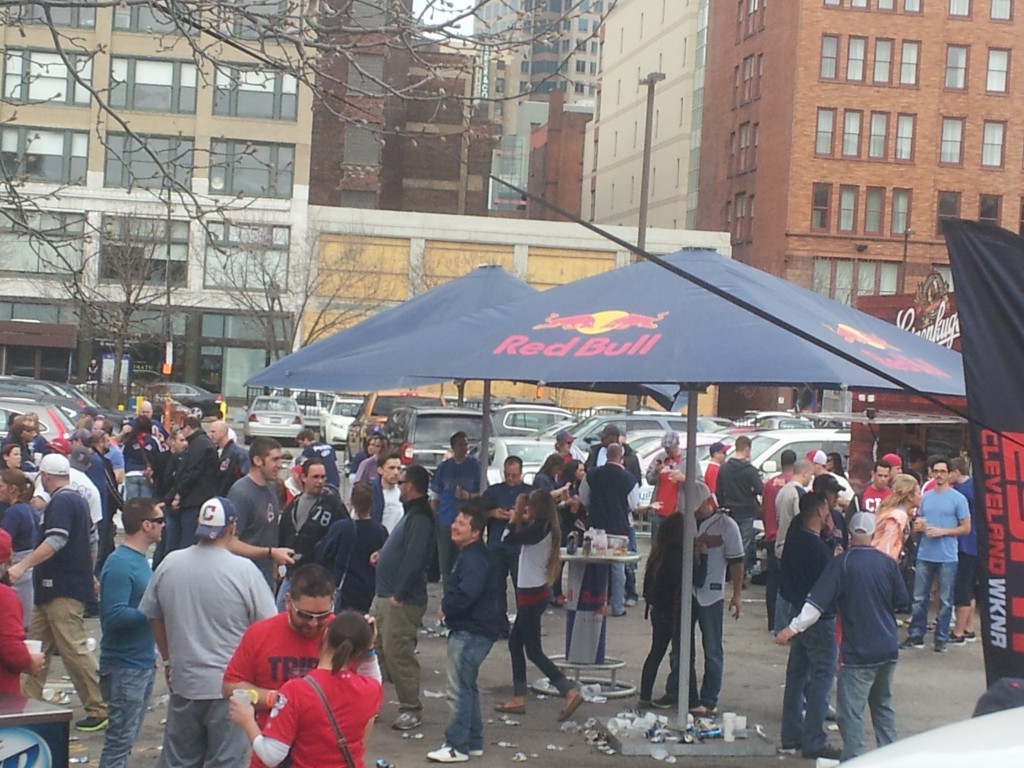 After Monday's sellout for the opener (41,567), the attendance on Tuesday was 12,663.
All hail Tribe Town, all hail the eternally not going anywhere Chief Wahoo, and all hail organizations that take good care "not to focus on uh anything that they would view, that, you know, anything that they don't view and certainly don't want to put, uh, be offensive to anyone."
—————
UPDATE: Chief Wahoo and White Supremacy in American Pop Culture
UPDATE: The Cleveland Indians don't really care about your opinion on Chief Wahoo: VP Bob Dibiasio writes to a fan about the logo and 'Indians' name
UPDATE: Did Major League Baseball force Chief Wahoo's demotion?
UPDATE: Checking in with the "Keep Chief Wahoo" crowd
UPDATE: The Patent Office's cancellation of the Redskins trademark is relatively meaningless